Main content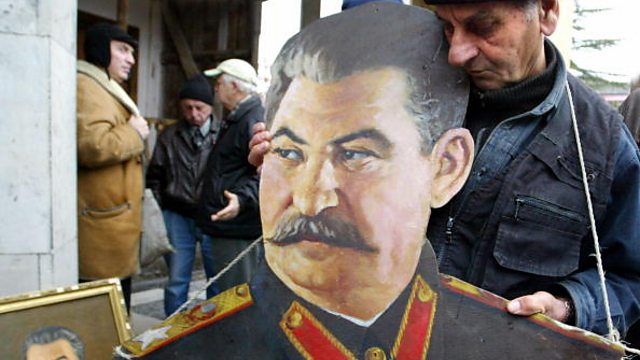 19/05/2012
An ode to austerity; an undercover operation by BBC Arabic; Siachen diary; and Build-A-Dictator
A fresh look at the week's global news from the World Service's 27 language sections, with David Amanor.
AUSTERITY TRAVELS
As Europe continues to lurk in the murky shadows of economic woe, Central Asian editor Hamid Ismailov reflects on what it was like to grow up poor in Uzbekistan - where as a boy, getting butter was his only bonus.
JORDANIAN CARE HOME EXPOSE
A BBC Arabic undercover investigation into abuse at care homes for disabled children in Jordan has caused an international outcry. The extent of the physical and mental abuse discovered was so shocking that it has got the King of Jordan demanding answers. The documentary's reporter Hanan Khandagji speaks to The Fifth Floor's David Amanor about the vulnerable children who had been beaten up, tied to chairs all day and one who had been left to bleed from an injury. And editor Mohamed Yehia describes the huge reaction from the Arab audience - some expressing their "pain and disgust" at the footage.
PAPPON'S PICKS
Our internet guru Thomas Pappon gives a rundown on the big-hitting stories across the World Service language sites this week - including the 'Terminator' in Congo, the world's oldest computer and a close encounter with some jellyfish.
A RESCUE AT THE TOP OF THE WORLD
Last month Zaheer Babar of the Urdu Service became the first BBC journalist to get permission to go to the Siachen glacier - a Pakistani military base in the hotly disputed region of Kashmir, often described as the highest battleground in the world. An avalanche there had buried 139 men, including one of Zaheer's school friends. As the rescue operation continued he made a diary of his time up there in the biting winds and driving snow, more than 13,000 feet above sea level.
D-I-Y DICTATOR
As Hollywood turns its glitzy eye to dictatorship with the release of a Sacha Baron Cohen spoof on the subject (aptly named The Dictator), what could the movie kings have learned from Brazil, Somalia, Sri Lanka, Russia, Turkmenistan, Ivory Coast and the fantasy lands of Bollywood? Our mic roams The Fifth Floor and compiles a series of attributes to make the ultimate despot. Madness seems to be key, as does being married to a tough first lady and having a strange sense of smell. With Juliana Iootty, Christophe Farah, Priyath Liyanage, Olexiy Solohubenko, Mark Grigoryan, Lamine Konkobo and Rajesh Priyadarshi.
(Image: A Georgian man holds a cardboard cut-out of former Soviet leader Joseph Stalin. Credit: Getty)