Main content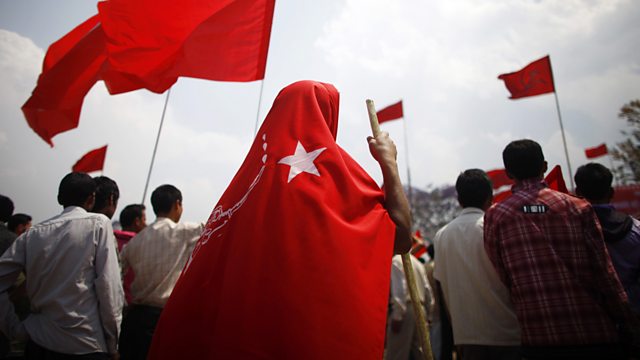 12/05/2012
BBC Hindi's hotline to the Maoists; the world according to Mamata Banerjee; journey through Homs; and premature obituaries and misreported deaths – those politicians who have died and survived.
A fresh look at the week's global news from the World Service's 27 language sections, with David Amanor.
ME, MY MOBILE PHONE, AND THE MAOISTS
Just over a month ago we spoke to Sandeep Sahu - journalist with the Hindi Service who had been called to a hostage handover by Maoist insurgents in India. Last week another Hindi Service journalist was again drawn into facilitating negotiations to secure the release of a man held hostage by the Maoists. Salman Ravi explains how his mobile phone became the only means of communications for the rebels - which meant he had government officers as well as journalists queuing outside his house overnight to find out the latest developments in a complex negotiation. We also speak to the head of BBC Hindi in Delhi, Amit Barua, to find out why his journalists are the favourite mediums of the insurgents and what dangers that poses for them.
LETTER FROM DELHI
She's the Indian government minister who wears flip flops to state banquets and wishes to paint Kolkatta blue. Our regular contributor Suhail Haleem imagines the world - or perhaps just West Bengal - according to Mamata Banerjee
A JOURNEY THROUGH HOMS
Arabic service reporter, Omar Abdel-Razek was this week part of a media pack accompanying a UN observer mission through the embattled Syrian city of Homs. But the caveats were strict - he couldn't talk to the observers, or follow them into the frontline of the fighting. So what did he learn? On foot through downtown Homs he found a shortcut through the national museum, now used as a "safe corridor" to avoid the street sniper and shelling. And in the neighbourhood of Baba Amr he found only a ghost city - and children who left him a surprise on his tape recorder.
PAPPON'S PICKS
Our internet guru Thomas Pappon gives a rundown on the big-hitting stories across the World Service language sites this week - including a hungry lion and President Putin's big day.
DIED AND SURVIVED
"The report of my death was an exaggeration" is a Mark Twain quote that Venezuelan President Hugo Chavez might want up his sleeve. In the past few months he's reported to have died a fair few times on Twitter - and journalists in BBC Africa were recently watching President Mugabe's tentative steps off a plane in Singapore to see if he was indeed gravely ill as many suspected. In sections across the BBC the final words on someone's passing are already written - the obits are ready to roll. We speak to the journalists on death watch about the false starts and preparations for final goodbyes. With insights from former Ukrainian boss Olexiy Solohubenko, BBC Mundo's Hernando Alverez, Swahili service's Noel Mwakugu, and Afghan anecdotes from editor Emal Pasarly.
(Image: A Maoist rally. Credit: AP)