Main content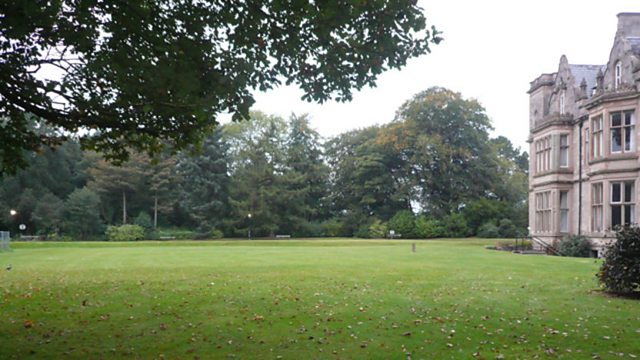 Hidden History: Stranmillis Estate History
Dr Eamon Phoenix journeys deep into the Stranmillis estate and environs in South Belfast. For any queries, please contact the Series Producer, Laura Spence - laura.spence@bbc.co.uk
This quest for hidden history takes us deep into the Stranmillis estate in south Belfast. The name Stranmillis comes from the Irish 'Sruthan milis' meaning 'the sweet or pleasant stream'.
The Stranmillis estate, centred on the Stranmillis University College, occupies a spur on Malone Ridge. And from the earliest times to the beginning of the 19th century, Malone Ridge carried the main road from Belfast to Dublin.
The landscape is still heavily wooded. All around us are the last vestiges of Cromac Wood - 'the Forest of Belfast' - which once stretched from the mouth of Belfast Lough through Malone and Stranmillis right on to Lisburn.
And Stranmillis Demesne also contains Belfast's best surviving example of a rath or ring-fort.
Stranmillis estate is essentially a relic of the Plantation of Ulster 400 years ago. It was this gigantic event which transformed the landscape and brought new settlers from the lowlands of Scotland and the north of England to the province.
In 1610 Sir Arthur Chichester, one of Elizabeth's most ruthless military commanders and the prime architect of the Plantation scheme, founded the town of Belfast.
In 1606, Chichester had leased the lands of Stranmillis and Malone to one Moses Hill, one of his cavalry commanders during the Nine Years War against the O'Neills.
Moses Hill built two Plantation castles, one at Malone, the present site of Malone House near Shaw's Bridge, and the other at Stranmillis. The Stranmillis Castle was designed to guard the ancient fording place on the River Lagan close to the present King's Bridge.
Duration:
Featured in...
Ulster-Scots culture - including music, history, literature, poetry, places and speakers.
More clips from Cromac Woods - from the Sweet Stream to Cranmore
More clips from Hidden History