Main content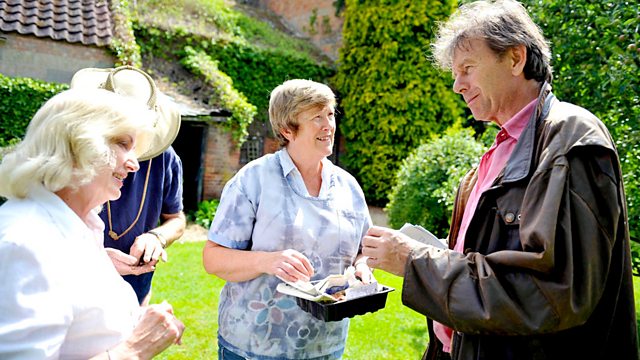 Michael Wood begins his people's history of Britain by tracing the roots of the country, from the end of the Roman Empire in Britannia through to the coming of the Anglo-Saxons.
Historian Michael Wood presents a series exploring the United Kingdom's remarkable past from the perspective of ordinary people.
Travelling across Britain, Michael works with local communities, tapping into their extraordinary energy and knowledge, and exploring our unrivalled local and national archives.
This first episode spans the period from the end of the Romans to the eighth century. It explores the crystallization of our regional identities in the Dark Ages, the legacy of Rome and the coming of the Anglo Saxons, the ancestors of the English.
The tale kicks off with a huge communal dig with the villagers of Long Melford in Suffolk, which finds astonishing evidence of our Roman ancestors; at Caerleon, South Wales, volunteers uncover the Roman roots of Wales. Up on Tyneside, ordinary Roman Britons from Africa and Syria are brought to life with the help of Roman letters read by today's Tynesiders.
As Rome declines we head to Burrough Hill in Leicestershire, Govan in Glasgow (Britain's greatest collection of Dark Age sculpture), and Meols on the Wirral. At Llantwit near Cardiff and on the coasts of Antrim the Age of Saints is born.
Michael picks up the first Anglo-Saxon immigrants at a huge community project at Sedgeford in Norfolk, and the first English civilisation at Jarrow and Wearmouth. Finally the earliest manuscript of Bede's History of the English, written in 731, yields its picture of 8th-century Britain and our Dark Age roots. In the 21st century, our identities as Britons remain obstinately distinct, says Michael, but our destinies are still inextricably intertwined.
Last on
Credits
| Role | Contributor |
| --- | --- |
| Presenter | Michael Wood |
| Executive Producer | Cassian Harrison |
| Producer | Sally Thomas |
| Series Editor | Gerry Branigan |
| Series Producer | Rebecca Dobbs |