Main content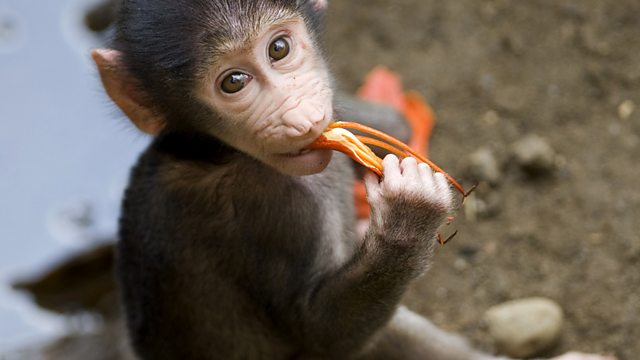 12/04/2012
Can baboons read? A new study shows they can recognise some words; Why the latest Indonesian earthquakes did not cause a tsunami; Are older drivers the worst? Ducks – rare and plastic.
Baboons reading
Can baboons master the basic principles of reading? According to new research published in the journal Science the animals are able to recognise many four letter words. Professor Michael Platt, the Director of the Duke Institute for Brain Sciences at Duke University in the US explains how this changes current theories about learning to read and how it could even children with dyslexia.
Tsunami update
So why did the massive earthquakes off the coast of Indonesia not cause a massive tsunami and did the tsunami early warning system implemented after the 2004 disaster work? The BBC's Roland Pease tells us more.
Older drivers
Who do you think are the worst drivers on the road? Your answer might depend on your age, but it is often older drivers, people over the age of 60, who are labelled as the most dangerous motorists. But according to new research that might not be true, Dr Ezra Hauer, a retired University of Toronto professor, has been questioning this perception of older drivers.
Rare ducks and plastic ducks
Back in 2009, Science in Action reported on a daring attempt to save the world's rarest duck, the Madagascan Pochard. The birds were thought to have gone extinct in the 90's but were rediscovered, and conservationists collected eggs from three remaining nests in northern Madagascar. These were successfully hatched and those chicks have now bred themselves, so eighteen new ducklings have hatched, bringing the total number to sixty. And from the rarest duck to a very common one, the yellow rubber duckie. Twenty years ago, two containers snapped loose from their lashings on a cargo ship on route to the United Sates from China and tumbled into the Pacific. Their contents, an estimated 28,000 plastic bath toys, yellow ducks, green frogs, red beavers, and blue turtles broke loose. The story of how the toys started to circumnavigate the world's oceans, giving scientists a brilliant opportunity to study tidal patterns across the globe, was taken up by Donovan Hohn. He set out to re-trace their bath, and the result is his book Moby-Duck – The True Story of 28,800 Bath Toys Lost at Sea.
(Image: A baby baboon. Credit: LUIS ROBAYO/AFP/Getty) Images
Last on
Broadcasts