Main content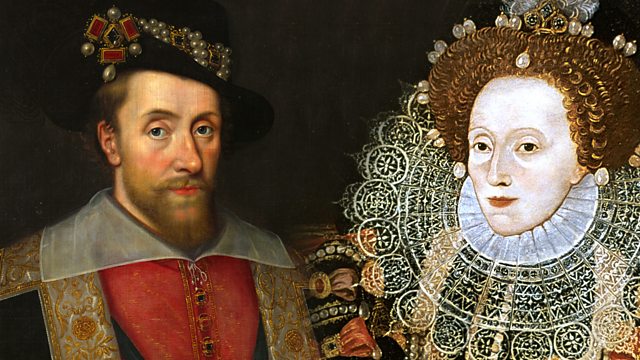 The Thistle and the Rose
An intimate view of a monarchical succession told through the correspondence between James VI of Scotland and the gaoler of his mother, Elizabeth I.
When Mary Queen of Scots was 'lighter' of a fine son, Prince James, Elizabeth Tudor complained bitterly that she, the queen of England, was nothing but a barren stock. Yet in the years to come, with Mary in Elizabeth's captivity, the tables would be turned in a cruel and subtle way. Mary's own motherless son would betray her, opening a correspondence with her jailer, in which he addressed not Mary, but the Queen of England as 'Madame and Mother'. How could such a thing come to pass?
Using original letters between James VI of Scotland and Elizabeth 1st of England, and the testimony of those historians who have studied them in the most intimate detail, the programme delves into the emotional and human side of the bringing about of Britain - the interplay between Elizabeth, the Tudor elder stateswoman and the surrogate son and successor who would inherit her throne - what did they really think of each other? How close can we come to unravelling the meeting of minds and monarchs which would lead to one descendant of Henry VII passing her throne and her dynasty to another?
The horror of witnessing the fate of her father's queens and her own wish to preserve her hard-won security left Henry's daughter Elizabeth with her heart set against continuing the succession.
Elizabeth's Godson - Prince Charles James soon to be James VI of Scotland. This was the son Elizabeth never had. Brought up by stern humanist tutors behind the old walls of Stirling castle, the teenage James was soon Elizabeth's counterpart in Scotland. There was an age difference of nearly 33 years between them and the Tudor queen felt quite within her rights to lecture her young fellow ruler in statecraft.
It was Elizabeth who held James' real mother Mary in total isolation from him in custody. Mary's little gifts and letters to her son were never allowed to reach him. He was deprived of his mother just as Elizabeth was deprived of hers. Instead his Godmother Gloriana lectured him by letter and doled out pocket money to the impoverished James, as if he were her own teenage son. In Mary she held a powerful weapon over James of both of emotional and political blackmail.
But so strong was James's attachment to the glittering prize of the throne of England that even when Mary was executed in Elizabeth's name, her own son glossed it over, preferring to keep Elizabeth's favour than to revenge or even try to protect his own mother. This tragic story follows the twists and turns of the relationship between the son of Mary Queen of Scots and the woman who killed her.
Penelope Keith reads as Elizabeth and Forbes Masson reads James VI.
Producer: Dave Batchelor
Last on
Broadcast

Featured in...
Shakespeare - Union flag designs for the newly-united kingdoms of England and Scotland

Shakespeare - Lucas de Heere, Allegory of the Tudor Succession