Main content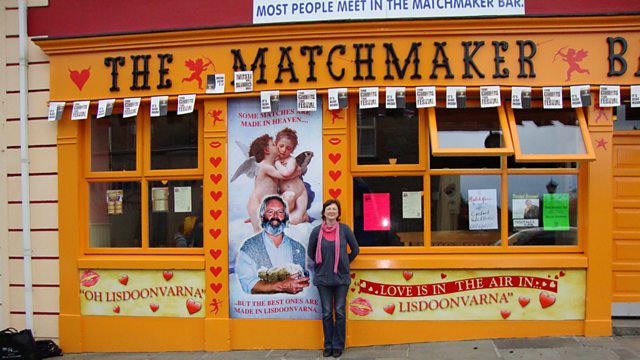 Lisdoonvarna – Ireland's Love Capital
Alison Finch meets one of Ireland's last traditional matchmakers as he reigns over the great Lisdoonvarna Matchmaking Festival.
It's an unlikely venue for international romance, a small town on the edge of a stark, scarred limestone plateau; but Lisdoonvarna in the Republic of Ireland has been a matchmaking centre for hundreds of years.
Every September, once their harvests were in, farmers from County Clare and the surrounding counties would flock to the town in search of a companion. These days the festival attracts hopefuls from all over the world.
They come to seek the help of one man – Willie Daly, a third generation traditional matchmaker (who does a little horse-trading on the side).
This time the hopefuls include BBC producer Alison Finch (single, own car, good sense of humour) who makes the pilgrimage to Lisdoonvarna to seek Willie's help.
Throwing herself into the helter-skelter of matchmaking season, Alison encounters a lonely lorry driver who sees Lisdoonvarna as the 'World Cup' of socialising; a happily-married couple who haven't missed a festival in almost 50 years (not even for their son's wedding); and a farmer who claims to know a little bit about everything from the space shuttle to slurry.
Signs are promising: men greatly outnumber women; Willie the matchmaker is confident of finding Alison a partner (especially if she's prepared to move to the countryside) and a jovial American assures her there are cupids in the trees.
However, she doesn't count on some serious competition in the form of international music star, Sinead O'Connor!
Will Alison record her own happy ending? Or will she discover that although the odds are good, the goods are odd?