Main content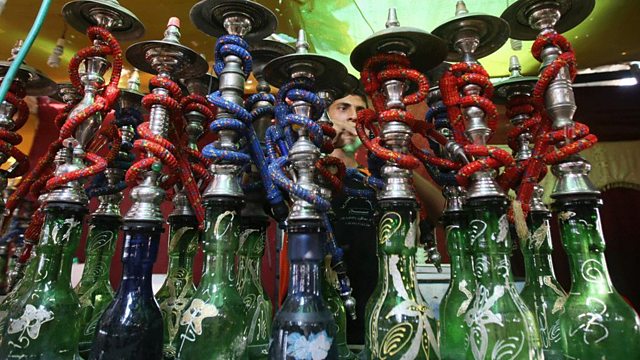 01/02/2012
A heart surgeon warns the increase in popularity of smoking water pipes may lead to an epidemic of heart disease in the Gulf States. It's thought that using a shisha is like smoking 40 cigarettes.
WATER PIPE SMOKING
Could the smoking of sweet-smelling tobacco in a water pipe or shisha lead to an epidemic of heart disease?
The water pipe - or shisha - is loaded with sweet-smelling tobacco and usually shared. Water pipes have been around for years, particularly in the Middle East.
But now their popularity is growing, especially amongst teenagers and women - who believe them to be less harmful than cigarettes.
Because the average time spent inhaling smoke is much longer than a cigarette it's thought that each episode of inhalation can be equivalent to 40 cigarettes.
At the European Society of Cardiology's meeting at the Saudi Heart Association's Annual Conference in Riyadh Professor Hani Najm suggested that water pipes are contributing to a time-bomb of heart disease in the Gulf States.
HEALTH ON THE WEB
Many people turn to the internet for health advice - but not all of the information found on websites is accurate.
Sourcing reliable health information can be a challenge for all of us, but rather surprisingly, it seems that one group that struggles is the most internet savvy generation of all - teenagers.
Ellen Henderson who's a psychologist from the University of Bath says that websites can often be too complex or too babyish for a teenager.
DOCTORS AND OBESITY ADVICE
We already know that doctors who smoke are less likely to help their patients to quit smoking.
But do other aspects of our doctors' health influence the way they care for us?
New research has found that overweight doctors are far less likely to diagnose their patients as overweight or obese, even though it's easy to work out using a simple calculation.
Sara Bleich, who's Assistant Professor of Health Policy at Johns Hopkins University in Baltimore says doctors may view people who weigh less than them as 'normal' or even feel embarrassed about raising the issue of weight.
Picture: Tobacco water pipes or shisha. Credit: AFP
Last on
Chapters
Smoking tobacco in a water pipe and affects on health

A heart surgeon warns the increase in popularity of smoking water pipes may lead to an epidemic of heart disease in the Gulf States. It's thought that using a shisha is like smoking 40 cigarettes

Duration: 06:06

Health Check Updates

Guinea Worm – funding to help eradicate it for good. Autism documentary Le Mur or The Wall, banned from being shown in France.

Duration: 01:50

Teenagers and health advice on the internet

Teenagers are struggling to find health information on the web - because some websites are too complicated and others too babyish

Duration: 03:35

Overweight doctors and obesity advice

New research has found that doctors who are overweight are less likely to diagnose their patients as overweight or obese even though it involves a simple calculation

Duration: 05:25

Broadcasts