Main content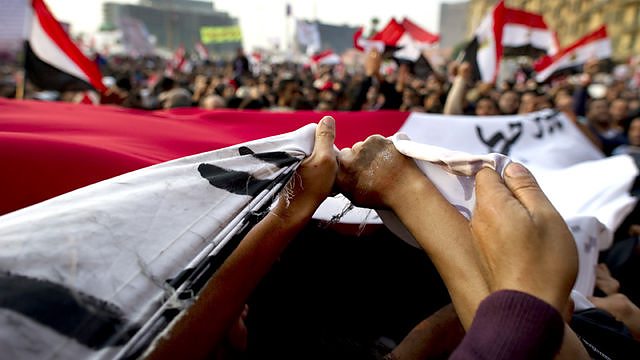 Stories from the year that changed the face of the Middle East with the BBC's Jeremy Bowen.
The BBC's Middle East Editor Jeremy Bowen looks back over a momentous year in the Middle East and hears from those who witnessed events at first hand.
The protests started in Tunisia after a fruit-seller set himself on fire and quickly spread to Egypt which, once again, became the leader of the Arab world, although not in a way anyone had expected.
Millions of protesters took the streets demanding the overthrow of President Hosni Mubarak but why hadn't this happened sooner and what exactly did they want?
Jeremy Bowen recalls his own experiences of the Mubarak regime and meets blogger Wael Abbas in Tahrir Square.
The security police didn't take the internet seriously at first but then Abbas and his fellow bloggers started to organise demonstrations on the streets.
Abbas was detained and questioned many times and the authorities spread rumours designed to discredit him in the eyes of his followers.
Tunisia, however, provided the spark which set Egypt on fire, "It gave people courage to do something similar.
"Because they saw that it was possible.
"Other people did it.
"This small country that beats us in football, in African tournaments has removed its president. Why the hell can't we do that?"
Bowen recounts his own experiences during the 'Day of Rage' graphically recorded as the security forces moved in to Tahrir Square, firing teargas as they went.
He meets Essam el-Erian, one of the leaders of the Muslim Brotherhood, who was locked up in jail earlier that day but escaped along with scores of criminals when then
jails were sprung open - either by protestors or amazingly by the security forces who, some say, wanted to show what would happen if the people were left in charge.
A senior figure in the military describes how they were ordered not to fire on protestors although he makes the point that it would have been useless to do so because the protestors kept on coming and they would have run out of ammunition.
And the deputy chief of police in a northern industrial town describes the battles they fought on the streets.
(Image: Egyptian protesters hold a giant Egyptian flag during a mass rally demanding an end to military rule at Tahrir Square in Cairo on November 25, 2011. Credit: Getty Images)
More episodes
Previous
You are at the first episode