Main content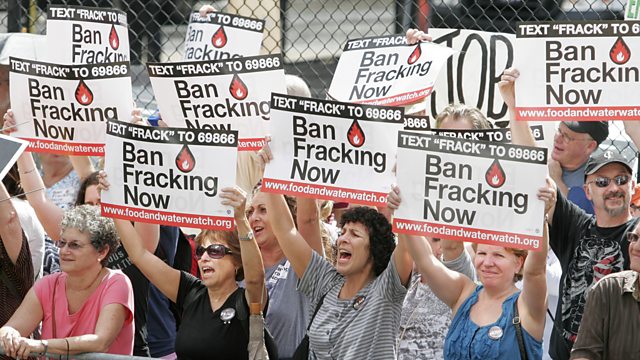 On The Fracking Frontline
The critics and the defenders desperate to win the battle over shale gas.
This week a company in Britain announced it had found vast reserves of shale gas under the ground - and wants to extract it. But protesters are already gathering close to the site. It's the latest battle between energy companies and environmentalists over fracking - a process for extracting gas using high pressurised water mixed with sand and chemicals. The technic has been around for years, but attempts to expand operations around the world are proving hugely controversial.
In July, France opted to ban the process completely, and in Australia an energy company executive has been sipping fracking fluid in an attempt to prove its safety. Some of the fiercest battles over fracking can be found in the north east of America - where vast underground reserves could meet the country's entire gas needs for a decade - but fears over pollution to the water supplies are dividing communities. This week on One Planet, Matt Wells takes a drive through upstate New York to hear from both sides of the battle.
Also in the show, Mike waits for a surprise visitor to teach him about being kinder to the environment, and the boss of Hitachi Europe - Sir Stephen Gomersall - sits down to discuss why business must pick up the baton following the failure of the global community to strike a deal over climate change.
As ever, tune in, have a listen and let us know what you think. Email us at oneplanet@bbc.com, or join the team on our Facebook page - the link's below.