Main content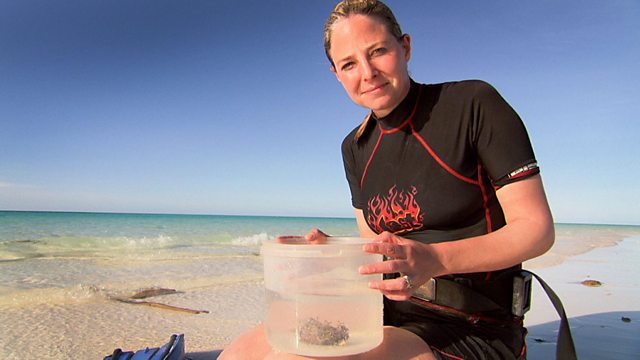 Series exploring how the human body charts our evolution. How our ancestors' hunt for food changed the shape of our face, the way we see and how we attract the opposite sex.
In this second episode, Dr Alice Roberts charts how our ancestors' hunt for food has driven the way we look and behave today - from the shape of our face to the way we see, and even the way we attract the opposite sex.
Clues to our ancestors' diet can be found in some surprising places. Alice goes in search of a lion kill to find out how the tapeworms in lions' food reveal our ancestors were eating the same diet of big game 1.7 million years ago. She puts her teeth to the test to reveal that our teeth have evolved to shear through meat. But by comparing her saliva with that of chimpanzees, she demonstrates that our body is as much designed to eat starch as it is to eat meat. And visiting a tribe of hunter-gatherers in Tanzania, who still gather food in a similar way to our ancestors, Alice discovers that starchy tubers are crucial to survival when meat is scarce.
The latest research suggests that the way the different sexes found food throughout our evolution has shaped the way we relate to each other today. The way the Hadza tribe share food and form long-term couples is thought to be the origin of love and marriage in all of us. And a fun experiment with Britain's best skateboarders shows they take more risks when women are present - it seems men are designed to show off to attract a mate.
Credits
| Role | Contributor |
| --- | --- |
| Presenter | Alice Roberts |
| Series Producer | Zoe Heron |
| Executive Producer | Sacha Baveystock |
| Producer | Matthew Dyas |
| Director | Matthew Dyas |