Main content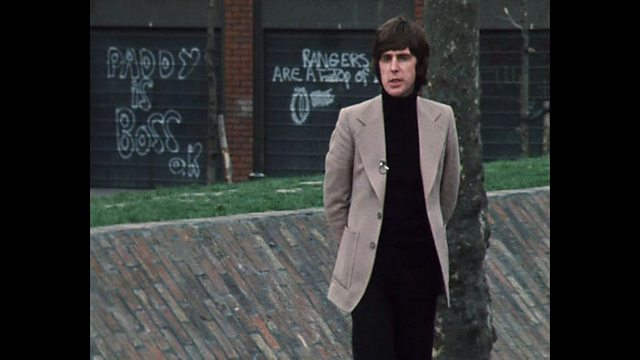 Maguire 'bomb factory'
Reporter John Stapleton visits Third Avenue, Harlesden, where the Maguire family once lived. He describes the activities the court believed took place in 'Auntie Annie's Devil's Kitchen'.
This clip is from a longer package on Nationwide about Provisional Irish Republican Army (PIRA) terrorism in England.
Reporter John Stapleton is seen crossing the road and standing outside the Maguire family's house in Third Avenue, Harlesden.
Stapleton warns viewers about the danger posed by terrorists living undercover, "Sleepers are people in streets like this; it might be your street, or the one next to you". These are people who have lived in Britain for a long time and have therefore become accepted members of the community – arousing no suspicion. Stapleton contends that the most notorious of all sleepers was Anne Maguire.
He describes how Anne Maguire seemed like an ordinary housewife. She had been living in England for 20 years and her neighbours considered her friendly and unassuming. But they didn't know that Mrs Maguire, along with her husband and two sons, was known as "Auntie Annie" to her terrorist friends and was "a vital cog in the bombers' machine."
Stapleton states that Anne Maguire trained new recruits how to make bombs; she also stored explosives in her kitchen which became known as "Auntie Annie's devil's kitchen". A few weeks before this report was produced Mrs Maguire and her family were all given custodial sentences. Many of her neighbours can't believe how Mrs Maguire kept her deadly secret for so long.
Only one neighbour had suspicions about Anne Maguire the rest believed she was totally opposed to the bombers. One neighbour recalled her expressing horror at the Guilford bomb. None of the neighbours would speak to John Stapleton on camera, "They are, they say, too scared."
Bob Huntley, former Commander of the Bomb Squad, advises people to take note of when neighbours come and go from their homes.
CONTEXT
On 5 October 1974 the Provisional Irish Republican Army (PIRA) targeted Guildford, Surrey, because it was situated close to a number of garrison towns. The PIRA planted two six-pound gelignite bombs in two pubs. The first exploded at approximately 8.55 p.m. in the Horse and Groom, destroying the front of the building and shattering the windows of neighbouring shops.
It killed Paul Craig, a plasterer (22 years old); two members of the Scots Guards, William Forsyth (18) and John Hunter (17); and two members of the Women's Royal Army Corps, Caroline Jean Slater (18) and Ann Ray Hamilton (19). A further sixty-five persons were wounded.
After the first explosion, other public houses were evacuated, including the Seven Stars where the second bomb exploded at approximately 9.35 p.m. without causing any serious injuries.
On November 7 1974 Gunner Richard Dunne, a soldier (42) and Alan Horsley, a sales clerk (20) were killed when a PIRA bomb exploded in the King's Arms in Woolwich. Twenty-six people, including five soldiers, were injured.
In December 1974 the police arrested three men and a woman: Gerry Conlon, Paul Hill, Patrick Armstrong and Carole Richardson. In October 1975 these four were convicted of the Guildford and Woolwich bombings and given life sentences. The group was known as the Guildford Four.
On 4 March 1976 the Maguire Seven were convicted of making the explosives used in these bombings. The Maguire Seven were: - Anne Maguire, Patrick Maguire (Anne's husband), Patrick Maguire (son of Anne and Patrick), Vincent Maguire (son of Anne and Patrick), Sean Smyth (brother of Anne), Patrick O'Neill (family friend) and Giuseppe Conlon (brother-in-law of Anne Maguire and father of Gerry Conlon).
Duration:
More clips from 02/04/1976
More clips from Nationwide