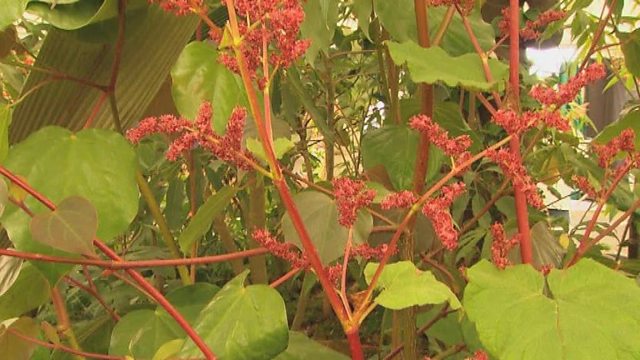 Video tour: Great Pavilion exotic plants, with James Alexander-Sinclair
The Great Pavilion, sitting at the heart of the show, is the place to go and experience all those fabulous and exotic plants you don't get to see every day. James Alexander-Sinclair goes global as he tours the exhibits displaying unusual and rare plants.
From the rainforests of Borneo to the plains of South Africa, from the mysterious East to the Caribbean, the plants are diverse and tell their own story.
Rheum acuminatum
From the plant family Polygonacea and known as the Himalayan Rhubarb, this herbaceous perennial is found in the higher-level forests in China and also in the Himalayas. It has purple-red stems and coarse green leaves that are red underneath. In summer, rose-red flowers appear, followed in most years by red fruits which ripen to brown, and if the light is adequate in autumn the foliage can turn red. It is pollinated by bees. Grow in full sun to light shade, and in wet or boggy soil. Ideal massed at the edges of water, as accent in woodland planting, or in a damp bed or border.
Schefflera aff. chapana
Almost a houseplant, and known as the "umbrella plant". It's well able to cope with British winters as it comes from North Vietnam, where there is lots of ice and snow.
Kirstenbosch
The "moonscape" of South Africa's Northern Cape is a real biodiversity hotspot, where very rare plants can be found in inaccessible places.
Pachypodium namaquanum (Halfmens)
This is the first time this plant has been seen at Chelsea. The name "halfmens" is Afrikaans for "half person", as, when seen from a distance, it looks like a man leaning over to the side. It is extremely rare and grows in a very inaccessible location. The stem height may range between 1.5 and 2.5 metres, but specimens have been seen up to 5 metres high.
Hoodia gordonii (Ghaap)
An interesting plant, which smells like rotten meat and is mainly pollinated by flies. It looks like a cactus but is in fact from the same family as the halfmens above it, the Apocynaceae. It has an interesting medicinal application, in that the flesh of the plant contains an ingredient, currently known as P57, which suppresses the appetite.
Osteospermum Symphony Series
Annual and perennial plants with daisy-shaped flowers, also known as Cape Daisy, which grows in profusion on the South African Richtersvelt. The genus name is derived from the Greek "osto" (bone) and "sperma" (seed), referring to the bone hard seeds. The seeds lie dormant across the hot summer months, and when the autumn rains come, the temperatures drop and the flowers spring into life. In the UK, it has an exceptionally long flowering period, from early spring to autumn. In tropical or subtropical climates it grows in full sun and in light and well-drained soils. In warmer parts of the UK it may overwinter, but in colder parts it is best grown as an annual. It is easily propagated fromn cuttings.
Nepenthes alata (Pitcher plant)
Pitcher plants are insectivorous plants which are found in tropical areas such as Indonesia, Malaysia and the Philippines. The greatest diversity occur in Borneo and Sumatra with many endemic species. They are also known as monkey cups. Many are plants of hot humid lowland areas, but the majority are tropical and thrive in warm days with cool nights.
This video tour is taken from the BBC Red Button coverage of RHS Chelsea Flower Show 2011.