Main content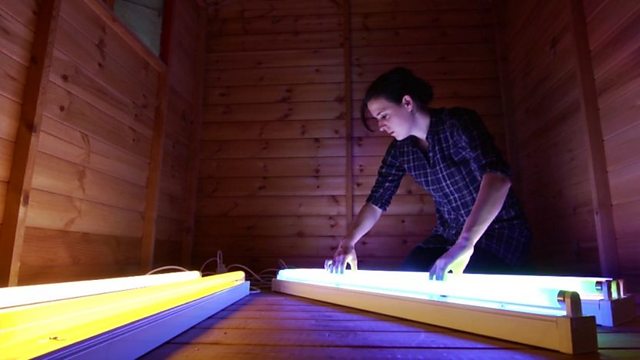 Red Shed - Retreat, Susie Olczak
"I want to make a light box for the office - a strange bright box glowing in the middle of the ubiquitous office space which is curious yet welcoming."
'Retreat' strives to play on the idea of a shed being a retreat for people to escape to spend time alone. With modern lighting inside, the intention is to play on the quirkiness of the placement of this shed within the office space. The work aims to be a holistic enclosure into which viewers can gaze and lose themselves in the beauty & simplicity of the light. It acts as a retreat from their hectic daily lives within the office. The luminous work contrasts the low lighting in the office space and when set against the dull skies of Glasgow it will act as a light box to brighten the moods of the viewer. As the sun goes down the light intensifies and the viewer's reaction ill hopefully become stronger as they view the work glowing amidst the darkness.
"My work and research explores space, light, perspective and form through sculpture, drawing, photography and installation. Predominantly the focus is on how the viewer experiences space. However it is influenced by minimalism, geometry, light, balance and architecture which often become components to each piece. My work alters, highlights or creates space for the viewer to interact with. I often control the audience in order that they question how they negotiate space and how architecture intrudes on them. The spectator activates the work and becomes a participant. My work investigates how impact can be created and aims to become a physical and psychological experience for the viewer. In order for my work to become psychological, the way the spectator perceives the space alongside the physical negotiation of the space is also considered and controlled; illusions are exploited in order to encourage the viewer to rethink the way they perceive. To enable the audience to be able to form a relationship to the work, scale becomes important. The work uses scale that is recognisable to the viewer, making work that evokes the feeling of architecture but to a smaller scale, so the space becomes more intimate or intrusive."
Duration:
Featured in...
The Red Shed was a regular garden shed installed in BBC Scotland's office at Pacific Quay.
More clips from The Red Shed art installation at BBC Scotland
More clips from BBC Scotland