Main content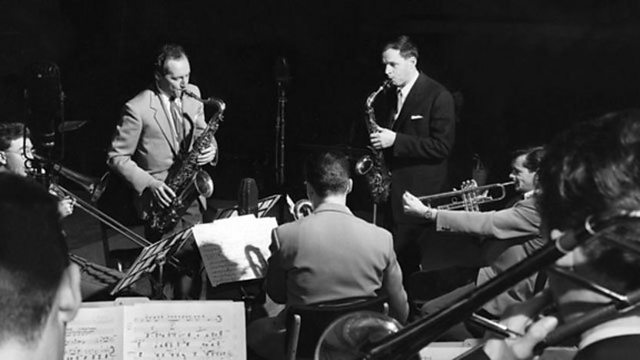 Jazz Library - Sir John Dankworth
Archive interview in which the late John Dankworth selected some of his finest recordings.
On 6 February 2010, Sir John Dankworth died aged 82. In this special edition of Jazz Library, Alyn Shipton introduces an archive interview in which John Dankworth selected some of his finest recordings. These range from his work with the Johnny Dankworth Seven and his big band to the settings he wrote for Cleo Laine, as well as music composed for films and television.
Jazz Top 100 Bio
Sir John Dankworth
(1927-2010)
One of Britain's best-known jazz musicians, composers and commentators, Dankworth continues to be a clarinettist and alto saxophonist of invention and fire, but with a particularly light and attractive tone. Having begun his career playing traditional jazz and studying the classics at the Royal Academy of Music, he joined 'Geraldo's Navy' - the bands employed on transatlantic Cunard liners - which allowed him to hear modern jazz in New York at first hand.
Inspired by Charlie Parker, whom he met in New York and Paris, Dankworth formed his Seven in 1950, and it soon became one of Britain's leading modern jazz groups. This was followed by his big band in 1953, for which Dankworth wrote many inventive arrangements, several featuring his wife, Cleo Laine, on vocals.
He continued to lead the big band for almost twenty years, as well as composing for films, television and (with a growing interest in musical education) children's concerts - his 'Tom Sawyer's Saturday' remains a classic introduction to jazz for young players. He and Cleo (for whom he is music director) toured the world, and became one of the most popular double acts in jazz.
In 1993, he formed another large orchestra, the Dankworth Generation Band co-led with his son Alec on double bass, but he continues to lead his own quintet, and to tour with Cleo Laine. The couple founded the All Music plan at their home in Wavendon, Buckinghamshire, which has developed into the Stables Arts Centre, one of Britain's liveliest venues. He was knighted for Services to Jazz in 2006.
Further Reading:
John Dankworth: Jazz In Revolution (London, Constable) 1997
Recommended CD:
The Best of John Dankworth (Redial 546 1356-2)
Suggested Track: Experiments with Mice
This is the podcast version of the original programme with music lengths adjusted for archive rights. Listen to the programme from this page or follow the links to download and keep the programme as a podcast.
Duration:
Credits
| Role | Contributor |
| --- | --- |
| Performer | John Dankworth |
More clips from Jazz Library