Main content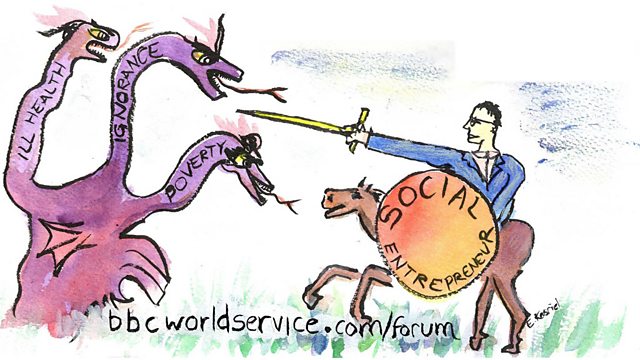 09/04/2011
This week: The Forum at Oxford University and a special discussion about the role of the hero in social entrepreneurship. Are heroic skills needed to successfully lead change?
The Forum programme at the Skoll World Forum on Social Entrepreneurship was joined by a lively international audience of social entrepreneurs, and three distinguished guests to debate the role of the hero in bringing about change.
Dr Larry Brilliant was on the United Nations team that helped eradicate smallpox and is now president of the Skoll Global Threats Fund. Ken Brecher, former director of the Sundance film festival, now runs the Library Foundation of Los Angeles. And social entrepreneur Roshaneh Zafar who was inspired by her hero the microfinance guru Muhammad Yunis to quit her job and set up the Kashf Foundation which provides loans which empower those stuck in the cycle of poverty.
Social entrepreneurs are mavericks and ruler breakers who take bold ideas from the world of business, and look for ways to improve the lives of many. But what does it mean to be a hero today? And are social entrepreneurs heroic? Is an ability to embrace risk a prerequisite for being a hero? Should the best social entrepreneurs merely facilitate our grass roots heroes in their quest. And how do you do that most effectively?
Illustration by Emily Kasriel: the heroic social entrepreneur battles ill health, ignorance and poverty.
Last on
Chapters
Part 1

What do you need to lead change?

Duration: 23:00

Part 2

The challenges that social entrepreneurs face...

Duration: 40:03
Broadcasts