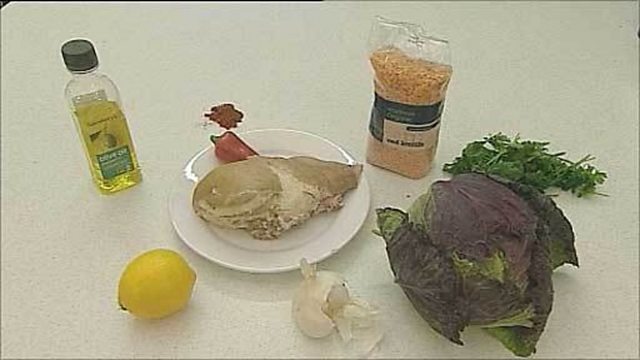 Recipe: Pig's head with red lentils
You can buy a whole pig's head from the butcher or ask him to cut off the pig's cheeks which are used in this recipe.
Meat first needs to be boiled for at least two hours, and then chilled.
Slice pig's cheeks.
Put red lentils onto boil.
To make dressing; Blend one garlic clove, one chilli, juice of half a lemon, three tablespoons of olive oil, and a tablespoon of chopped parsley.
Pour dressing over some finely chopped raw cabbage to make salad.
Fry sliced cheek in dry non-stick pan till crispy.
Strain and serve lentils.
Arrange cabbage salad and crispy cheeks over the lentils.
Drizzle a little extra dressing around the plate.
Recipe by Tim Maddams.