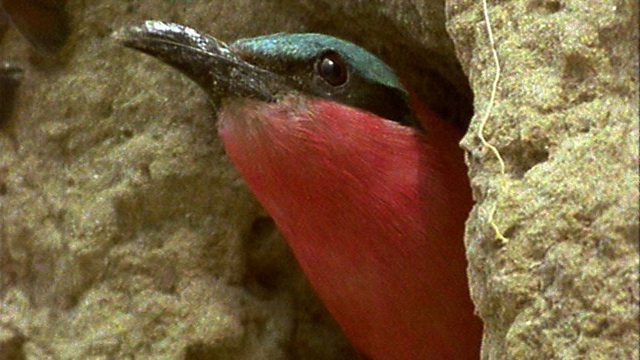 Lizard alert
Jonathan is canoeing down the Zambezi looking at a large colony of carmine bee-eaters - perhaps a thousand of them - nesting in the bank. They arrive around August of each year and are bigger than most bee-eaters. Jonathan quietly glides by and watches them flying out of the nests, then turns around to watch them settle down again. As he watches them, one of them presses its tail feathers against the bank, holding its position at the nest hole where it may have eggs. Then he spots a water monitor and watches as it investigates a variety of nests. These confrontations are an annual event, but by nesting in large colonies the parent bee-eaters increase the chance of protecting their young from predators.
Featured in...
Discover more about Africa's most surprising and also best-loved wildlife.

Be captivated, informed and inspired by the world's wildlife.