Main content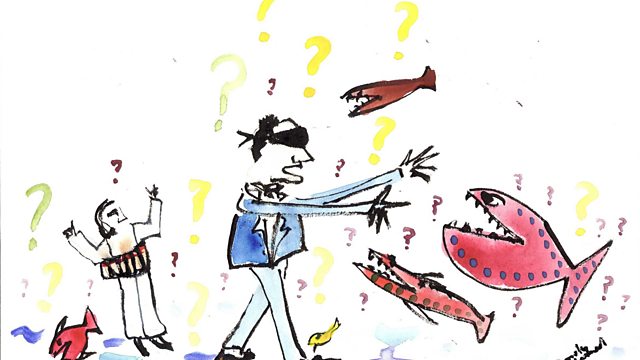 12/03/2011 GMT
How to make sense of the unknown. With polymath Nassim Nicholas Taleb, an oceanographer on unknowns on the ocean floor and a poet who uses the unknown to free our imagination.
The Forum special recording at an Editorial Intelligence Symposium in Portmeirion. The theme: How to tackle the unknowns in our world, from the ocean ecosystem, the unrest in the Arab World, to the mind of the other.
Polymath, Nassim Nicholas Taleb, author of 'The Black Swan' and the man credited with helping us understand about how random events rule our world.
Oceanographer Sylvia Earle, with first hand experience of a world unknown to most of us.
And painter and poet Frieda Hughes, who uncovers insights into the unknown, from a perfect child she never had, to the mind of a suicide bomber.
Plus contributions from a lively audience of opinion formers.
llustration by Emily Kasriel: Negotiating the values of an unknown world on the ocean floor.
Last on

Chapters
The Forum Part 1

The Forum special recording at an Editorial Intelligence symposium in Portmeirion.

Duration: 23:00

The Forum Part 2

The Forum special recording at an Editorial Intelligence symposium in Portmeirion.

Duration: 23:00
Broadcasts