Main content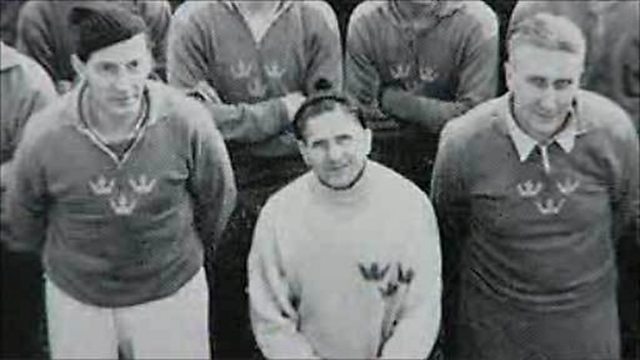 George Raynor - Sweden's English football manager
The English man who guided Sweden to the 1958 World Cup Final.
George Raynor is arguably England's most successful ever international manager. In June 1958 he guided Sweden to a World Cup final in Stockholm.
As well as his World Cup achievements, he won the Olympics with Sweden in 1948, and became the first ever manager to beat England at Wembley.
So why was George Raynor so successful yet so overlooked in his own country?
He'd already led Sweden to the semis of the 1950 World Cup when England were knocked out in the first round. He had a better international record than Sir Alf Ramsay, but was never considered for the England job.
In his book, George wrote "any coach has an ambition to be a success in his own country".
But, George would never fulfill his ambition.
In England Skegness Town couldn't afford to keep him and his last job was an unsuccessful stint at Doncaster Rovers. He retired and spent his final years in Buxton where he died in 1985.
But that's not the end of the George Raynor story.
George's son Brian had stayed in Sweden, married and had two sons of his own. Christopher and Peter live in Lund. They say George was obsessed with football and was proud of what he achieved with Sweden. But given the chance, he would have preferred to have helped England.
The miner's son from Barnsley who almost brought Sweden onto a par with Brazil, was never given the chance to show what he could do with England.
But England's loss was Sweden's gain and his footballing achievements live on.
Duration:
More clips from Inside Out Yorkshire and Lincolnshire