Main content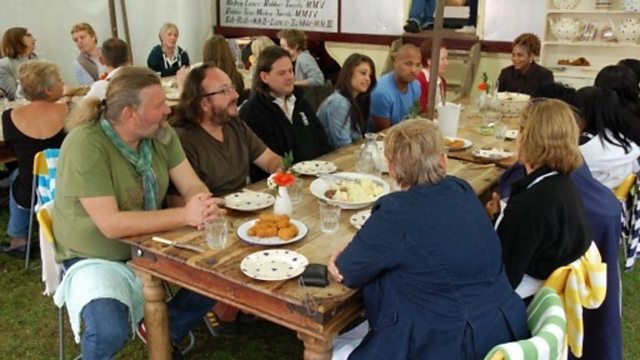 Fabulous food from the recipe fair visitors
Series celebrating home cooking. The Hairy Bikers eat comfort food in northern England, with recipes including meat and potato pie, curry and sponge pudding.
Great family food is much more than simple sustenance. It provides comfort, both physical and emotional. In this episode, which celebrates that dual role, the Hairy Bikers meet three great home cooks with a diverse range of recipes.
Dee's family is from Denby Dale, famous for its giant pies. She cooks up a meat and potato pie using a recipe handed over for the very first time from her father, who's well known for his perfect pies.
Anjie lives in Blackpool. Like her mother, Anjie loves to cook a curry. She finds comfort in using a home-made cookbook entitled Hug from Mum. It was compiled by her mother shortly before she died.
The third family live in the Calderdale Valley. Ruth and her mother Ann come from several generations of farmers. As well as a comforting ginger sponge and custard, they show Si and Dave their unusual 'dock pudding', made with leaves foraged from the pastures and traditionally eaten to celebrate the end of lambing.
En route, Si and Dave rustle up some food that they find comforting - creamy tomato soup with rouille, home-made fish fingers, a rich oxtail stew and a classic steamed syrup pudding.
The travelling over, it is the day of the Mums Know Best recipe fair where foodie folk come together to swap recipes and talk about the stories behind them. The three 'star mums' share their recipes with an eager public while volunteers take part in a culinary skills challenge. This time, Gerard Baker shows how to make a hand-raised pie. The day ends with the Mums Know Best banquet, an eclectic meal featuring all the dishes from their journey.
Duration:
More clips from Comforting Food
More clips from The Hairy Bikers: Mums Know Best