Main content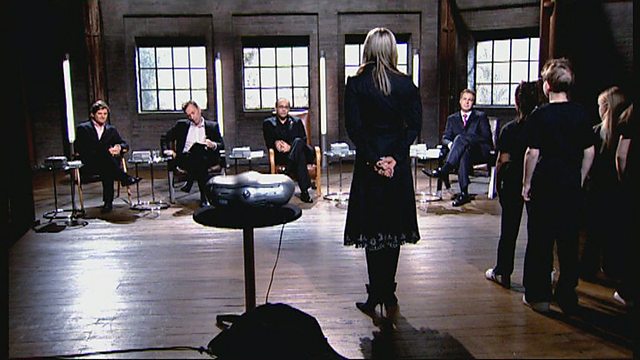 Watch Denise pitch in the Den
Denise Hutton-Gosney pitches Razzamataz in the Den
Denise brought a first to the Den: a troupe of singing children. She wanted to extend her children's theatre school Razzamataz throughout the country, and the song the children sang was written by one of them.
Duncan Bannatyne started the questioning, but Peter Jones wanted to know what the £50,000 was for. When Denise said she wanted it to lend to her franchisees no-one looked impressed.
Theo Paphitis thought this was a very bad idea because the first principle of a franchise was to get the whole-hearted commitment of your franchisees. So he was out.
Denise looked slightly shaken by this. Deborah Meaden agreed "you're not clear about your destiny". So she was out too.
Peter went out for the same reason.
Richard Farleigh felt that Stagecoach, the nationwide children's theatre school was too large a competitor with nearly 600 schools - so he felt unable to invest also.
But everyone looked stunned when Duncan suddenly piped up. He had been waiting quietly for the other Dragons to drop out.
For the first time in the Den a Dragon offered all the money without haggling over the equity. Denise gratefully accepted. Duncan then revealed that he had once invested in Stagecoach and had done very well when he sold out.
Denise left looking hugely relieved and Duncan said "How could I haggle? It'll be a fantastic little business". Could he have a soft spot for kids beneath his Dragon's scaly hide?
The deal done in the Den:
Duncan Bannatyne: £85,000 for a 40% stake in Razzamataz
Duration:
More clips from Dragons' Den