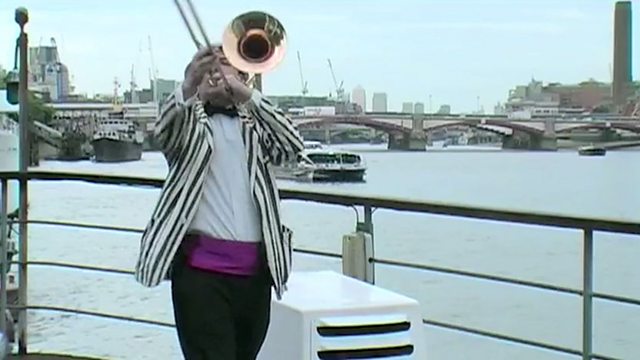 Alan Tomlinson for TAPS - "He Who Straightens Things Out"
Film by Helen Petts.
Alan Tomlinson is one of ninety collaborators that have been commissioned by Matt's Gallery, London, to contribute a film to TAPS: Improvisations with Paul Burwell, an exhibition of artists who collaborated with percussionist and live artist Paul Burwell
Trombone player and improviser Tomlinson performed with Paul in the Bow Gamelan Ensemble. "I've done several events for Paul, always great fun, from massed trombones in 3 boats on the Thames, to being hoisted into the trees in Bedford Square, dressed as a glittery winged angel, whilst playing trombone, with rockets and fireworks nearly going up my skirt!! I've played improvised music with him on and off since the mid 80's and he was a more than capable dep' on drums in my trio. I last saw Paul when I had a gig near Hull, we had a pleasant little booze-up one afternoon, then, not too long after, I heared that Paul had died. He is sadly missed."
TAPS will be taking place at Dilston Grove, Southwark Park, London on 17th, 18th and 19th of September, 2010.
More details at:
http://www.http://www.mattsgallery.org/artists/burwell/exhibition-1.php