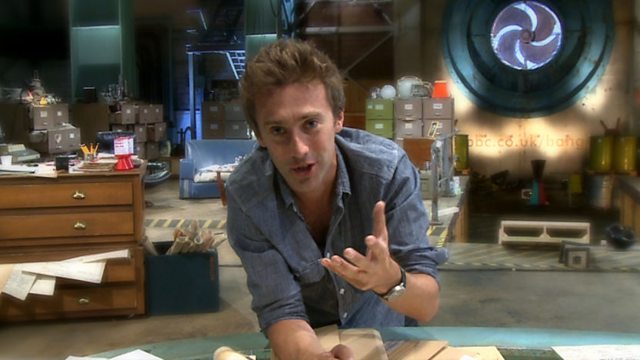 Meet Dallas Campbell
Dallas describes himself as an actor and writer whose curiosity and love of science have led him into a parallel career as one of television's freshest and funniest rising talents.
Hmmm. Anyway, Dallas' mantra is that you don't need to be a scientist to be in love with science. Before Bang he investigated the scientific world from a layman's point of view in Dallas in Wonderland (The Discovery Science Channel) and The Gadget Show (Five), among others. The former saw him having a crack at breaking the men's 100m record and journeying to the centre of the Earth. Well, it's the ambition that counts.
His TV acting credits include Casualty, Holby City and Moll Flanders, and his theatre work brought him together with the late, legendary comic Ken Campbell on a variety of hair-brained projects. Perhaps most notable was The Warp, the 29-hour epic which made it into the Guinness Book of Records as the world's longest play.
And the fun has continued on Bang. As well as getting to grips with some pretty serious science (quantum mechanics, anyone?), Dallas has attempted to swim like a dolphin, braved the flying trapeze to illustrate nuclear fusion, and er, dressed up as Goldilocks. All in the name of science of course.