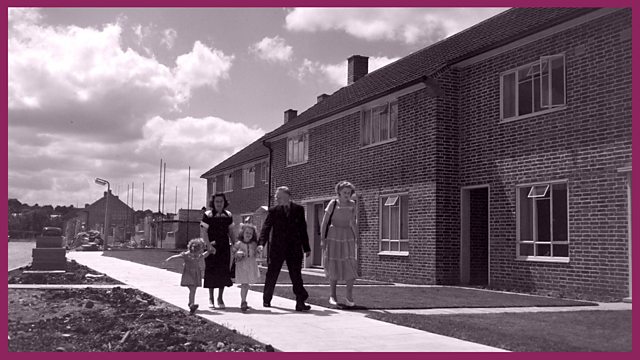 Living in Crawley (New Town)
1959. Building Crawley and other 'new towns'.
Crawley was one of several new towns created around London by the British Government following the passing of the New Towns Act in 1946. As well as Crawley, the other new towns included Basildon, Bracknell, Harlow, Hatfield, Hemel Hempstead, Stevenage and Welwyn Garden City.
The new towns were intended to persuade people to move out of the overcrowded slums or sub-standard accommodation of post-War London and other cities into the countryside. They offered companies the opportunity to re-locate and the prospect of good jobs and pleasant houses to Londoners who were prepared to move. The aim, as with other significant legislation from the late 1940s - including the creation of the welfare system and the National Health Service - was to provide a better life for ordinary people who had sacrificed so much during the War.
Each new town consisted of several neighbourhoods, each of which had the same basic structure: shops, primary school, church, community centre and pub. Crawley was designated a new town in January 1947 and is now the largest inland town in West Sussex.
The speaker in this clip is a young girl who has recently moved to Crawley. The image shows newly built homes in Crawley, pictured in 1951.
TRANSCRIPT:
Well, the thing I noticed when I first came to Crawley was that the houses are much farther apart and you get lovely green spaces in it. The schools are much newer. I lived in an old school which had been bombed. We have a lovely playing field here and the apparatus is very nice.
In London you get lovely interesting places, but here there are woods and lots of other places where you can go to. The teachers are ever so nice here. In London we used to have a man and he used to growl at us in singing.
Featured in...
Society

—

Britain since the 1930s

Recordings from the BBC Sound Archive about slums, building new towns and decimalisation.