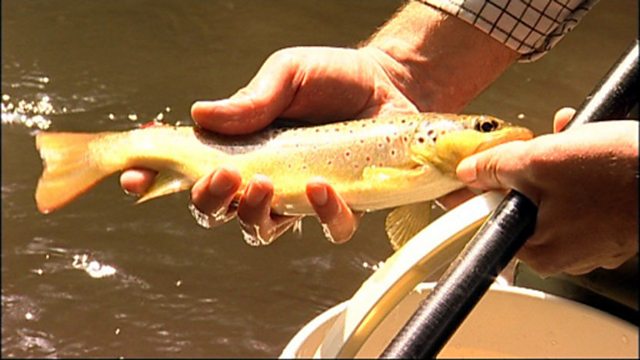 River of gold
Dillon Roberts of the Game Conservancy Trust want to make the River Dore one of the best rivers in the country for wildlife. He shows Sanjida O'Connell how to do electrofishing to find out how well the river is doing. The technique stuns the fish gently with electricity so that they can count the fish and find out if their habitat work has increased the numbers of brown trout. The brown trout has beautiful markings - red and black spots. The fish recovers from the low current of electrofishing in a few seconds. Dillon finds a bullhead, also known as a miller's thumb. They are in decline in Europe, so are an important species in terms of conservation, and they make good prey for trout. Lots of trout means that the restoration of the river is working. According to Ian Lindsey of the Game Conservancy Trust the fish also bring in money to fund other conservation work. The trout are the key biological indicator, but the Trust also wants more people to come to this part of the world. These rivers were once very important angling rivers and getting anglers back will provide investment and make the project sustainable. The brown trout provides the economic incentive to manage the wildlife habitat for a whole range of important species. Even if you are not interested in fishing there is plenty to see in the Golden Valley.
Featured in...
The best of British seasonal wildlife highlights in video.

Be captivated, informed and inspired by the world's wildlife.