Main content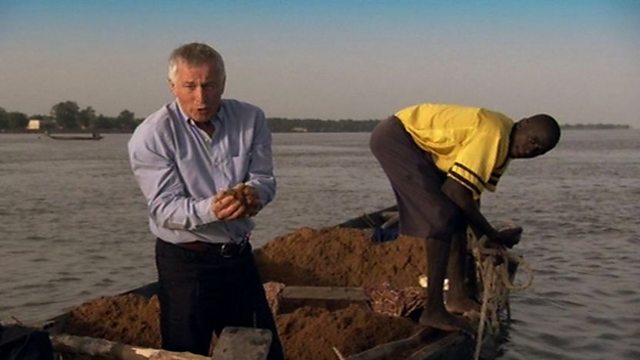 The Sand Diggers
Jonathan meets the Sand Diggers on tyhe Niger river in Mali.
Jonathan Dimbleby traverses Africa on a 7,000-mile journey to discover how it is changing. He visits Mali, Ghana and Nigeria, taking in business, royalty, fashion and music.
Jonathan meets the Sand Diggers on the Niger river in Mali.
After four decades of reporting from the continent, Jonathan Dimbleby returns to Africa on a 7,000-mile journey to discover how it is changing.
He starts his African journey in the capital of Mali, Bamako, the fastest-growing African city. Following the course of the Niger river, Dimbleby finds not a continent of beggars but of industrious people, some of whom go to extraordinary lengths to make a living, free-diving 20 feet to excavate building sand.
Travelling north-east, he sees how tradition is preserved in an area where a sophisticated urban society has thrived for 1,600 years. Jonathan gets his hands dirty as the apprentice of a 74-year-old mud mason in Djenne, a town built entirely of mud.
In Ghana, one of Africa's freest and most stable countries, Jonathan sees a spectacular festival before playing a game of golf with the King of the Ashanti, who recalls his time working for Brent council. Dimbleby attends the King's court to see what lessons the UK can draw from traditional African structures that promote harmony and reconciliation.
Jonathan discovers that the African brain drain is turning into a brain gain as economic opportunity and patriotism draw people home. Football unites Ghana like nothing else, superseding political and tribal divisions. There is a rich seam of young football talent on the continent in the year that the World Cup is hosted by an African nation for the first time.
In Lagos, Nigeria's business capital, Jonathan Dimbleby sees a different take on a city that is often depicted as a hotbed of violence, crime and corruption. He is taken on a private jet by Africa's richest man, then savours the creative talents of two of African music's rising stars who are helping to cement Lagos's place as the continent's cultural hub.
Duration:
More clips from Episode 1
More clips from An African Journey with Jonathan Dimbleby