Main content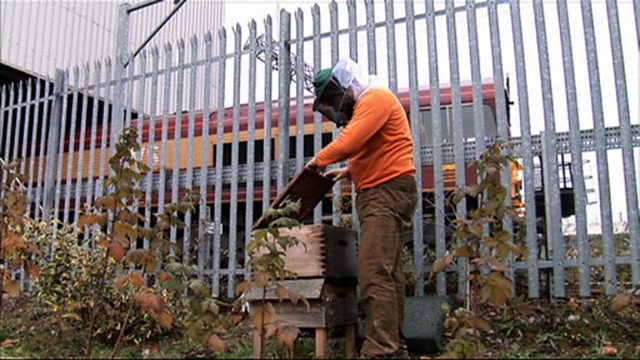 Urban bees
Despite the serious decline in many bee populations, it would seem that the city slickers amongst bees are faring a little better than their countryside counterparts. This might shed some light on what's causing the decline.
Orlando Clarke is an urban beekeeper, he keeps his bees in various locations around the city of London, from Brixton to King's Cross. His bee losses have been no higher in the last few years than they have been in any winter. In fact, last winter was better than ever before. Ironically in the city, there seems to be more and cleaner food for the bees to eat. London and a lot of urban environments are actually quite green, with an abundance of parks and gardens dotted all around. The diversity of the plants you have in the urban environment may help the bees, as there is almost always something in bloom all year round. In the countryside, particularly with modern agricultural practices, you have whole swathes of land supporting just one crop, which may bloom for only 2-3 weeks. The city is probably one of the best locations to keep bees at the moment, as there is plenty of forage for them and they don't have all the problems they have in the countryside with insecticide and pesticides being sprayed on them and their food.
Duration:
Featured in...
Favourite video clips of the UKs best loved garden wildlife

Be captivated, informed and inspired by the world's wildlife.

A collection of clips illustrating the importance of the honey bee and its recent decline.