Main content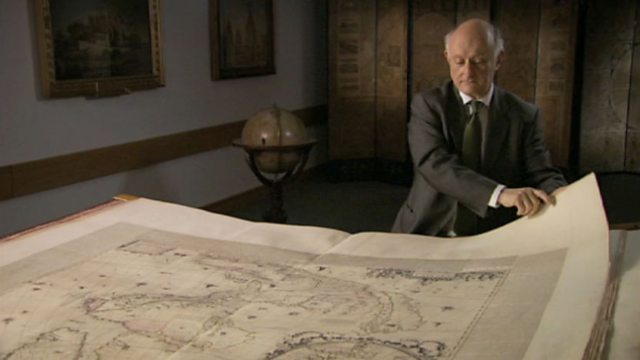 Klencke Atlas 1660
A short clip that looks at the largest atlas in the world, the Klencke Atlas.
Made for Charles II to mark his restoration in 1660. Denis Lawson explains how the atlas offered knowledge of the world to the monarch but was also a unique and beautiful display of Dutch art.
Documentary series charting the visual appeal and historical meaning of maps.
The Dutch Golden Age saw map-making reach a fever pitch of creative and commercial ambition. This was the era of the first ever Atlases - elaborate, lavish and beautiful. This was the great age of discovery and marked an unprecedented opportunity for mapmakers who sought to record and categorise the newly acquired knowledge of the world. Rising above the many mapmakers in this period was Gerard Mercator, inventor of the Mercator projection, who changed mapmaking forever when he published his collection of world maps in 1598 and coined the term Atlas.
The programme looks at some of the largest and most elaborate maps ever produced, from the vast maps on the floor of the Royal Palace in Amsterdam, to the 24 volume atlas covering just the Netherlands, to the largest Atlas in the world, The Klencke Atlas. It was made for Charles II to mark his restoration in 1660. But whilst being one of the British Libraries most important items, it is also one of its most fragile so hardly ever opened. This is a unique opportunity to see inside this enormous and lavish work, and see the world through the eyes of a King.
Duration:
More clips from Atlas Maps - Thinking Big
More clips from The Beauty of Maps