Main content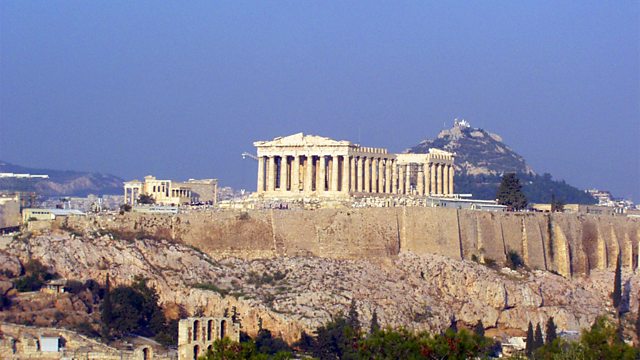 Southern Greece and Crete
In the second of two programmes, Lucy Duran continues her search for some of the rarest and most exciting traditional music in Greece. This week she travels down south to the birthplace of Zeus, and the home to some of Greece's most celebrated musicians: the Great Island, Crete.
Music and featured items
Lucy Duran visits Crete

Lucy Duran is in Crete, a major tourist destination that is also known for its music.

Duration: 04:42

Music Played

Vassilis Skoulas plays Erotokritos

Vassilis Skoulas plays and sings part of the Erotokritos, a long mythological work.

Duration: 05:20

Vassilis Skoulas sings Yasemaki

Vassilis Skoulas sings and plays Yasemaki, a typical troubadour immigrant song.

Duration: 04:08

Music Played

Nikos Ksilouris

Lucy talks to Thalia Iakouvidu, a Greek music executive about Nikos Ksilouris.

Duration: 05:31

Music Played

Michalis Skoulas mandolin piece

Michalis Skoulas plays a solo piece on a mandolin.

Duration: 04:55

Lyra player Psaradonis

Lucy meets Lyra player Psaradonis, one of the most famous characters of Cretan music.

Duration: 08:45

Music Played

Bagpipe Player

Lucy meets one of the last remaining bagpipe players.

Duration: 08:45

Lucy meets Hinides.

Lucy is in Crete's capital Heraklion with the innovative band Hinides.

Duration: 10:05

Music Played

Lucy speaks to Hinides

Lucy speaks to Dimitri from the band Hinides about the vanishing Cretan culture.

Duration: 04:54

Music Played

Lucy visits her father's grave.

Lucy ends the Crete programme with a personal note, visiting her father's grave.

Duration: 02:52

Featured in...

This collection features our choice of musical highlights from across the globe.