Main content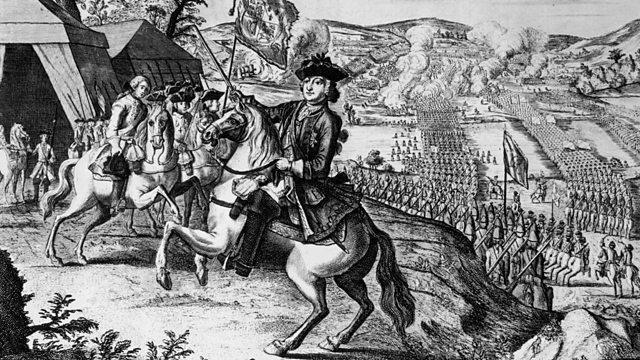 The Jacobite Rebellion
Melvyn Bragg discusses the Jacobite Rebellion, the Stuart dynasty's final attempt to reclaim the throne of England.
Melvyn Bragg and guests discusses the Jacobite Rebellion. In the summer of 1745, a young man in a small French frigate landed on the West Coast of Scotland. It was Bonnie Prince Charlie who began his campaign to become king of Scotland and England. He had seven followers amongst his shipmates and took to the Highlands to raise an army from the Scottish clans: "The Highland clans with sword in hand Frae John o Groats tae AirlieHae tae a man declared to standOr fa wi Royal Charlie".Or so the old Jacobite song goes. But why was the latest scion of the Stuart dynasty such a favourite with the Scottish Highlanders? And did Bonnie Prince Charlie ever have a real chance of gaining the throne of England? With Murray Pittock, Professor of English Literature at the University of Strathclyde; Stana Nenadic, Senior Lecturer in Social History at Edinburgh University; Allan Macinnes, Burnett-Fletcher Professor of History at Aberdeen University.
Last on

Broadcasts

Featured in...
Browse the 18th Century era within the In Our Time archive.

Historical themes, events and key individuals from Akhenaten to Xenophon.