Main content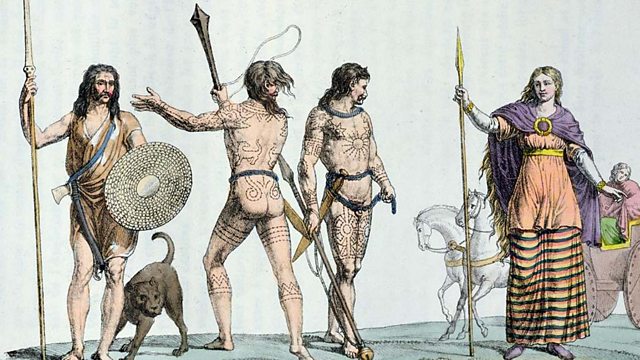 The Celts
Melvyn Bragg discusses the culture and legacy of the Celts of pre-Roman Britain and examines what we know of them through archaeology and the records of their enemies.
Melvyn Bragg and guests discuss the Celts. Around 400 BC a great swathe of Western Europe from Ireland to Southern Russia was dominated by one civilisation. Perched on the North Western fringe of this vast Iron Age culture were the British who shared many of the religious, artistic and social customs of their European neighbours. These customs were Celtic and this civilisation was the Celts.The Greek historians who studied and recorded the Celts' way of life deemed them to be one of the four great Barbarian peoples of the world. The Romans wrote vivid accounts of Celtic rituals including the practice of human sacrifice - presided over by Druids - and the tradition of decapitating their enemies and turning their heads into drinking vessels.But what were the Celts in Britain really like? Was their apparent lust for violence tempered by a love of poetry and beautiful art? How far should we trust the classical historians in their writings on the Celts? And what can we learn from the archaeological remains that have been discovered in this country? With Barry Cunliffe, Professor of European Archaeology at Oxford University; Alistair Moffat, Historian and author of The Sea Kingdoms - The Story of Celtic Britain and Ireland; Miranda Aldhouse Green, Professor of Archaeology at the University of Wales.
Last on
Broadcasts

Featured in...
Browse the Ancient Rome era within the In Our Time archive.

Historical themes, events and key individuals from Akhenaten to Xenophon.