Main content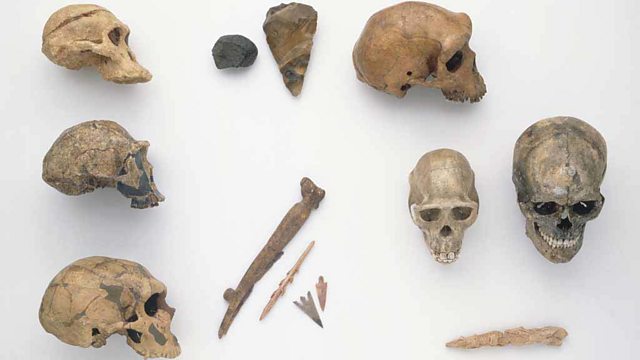 Human Origins
Melvyn Bragg examines the evidence from palaeontology and anthropology in examining how we arrived at a period unique in the earth's history when a sole human species is in evidence across the globe.
Melvyn Bragg and guests discuss the evolution of the human species. Where did we come from - we being Homo Sapiens? Let's not go back to the Big Bang or in search of Genesis, but sift through the evidence from biology, palaeontology, climatology and anthropology.The story of human evolution is one that stretches back over five million years, and during that time there are reckoned to have been between fifteen and twenty species of hominid to have walked this planet. From the earliest (Genus) Australopithecus (Species) Anamensis through times when there have been several divergent pre-human species existing at once, we have now arrived at a period unique in the history of the earth when a sole human species, Homo Sapiens, is in evidence right across the globe.With Leslie Aiello, Professor of Biological Anthropology, University College, London; Robert Foley, evolutionary ecologist, writer and lecturer in biological anthropology at Cambridge University; Mark Roberts, Field Archaeologist, Project Leader of Boxgrove excavation and the discoverer of 'Boxgrove Man'.
Last on

Broadcasts

Featured in...
Browse the Prehistoric era within the In Our Time archive.

Scientific principles, theory, and the role of key figures in the advancement of science.