Main content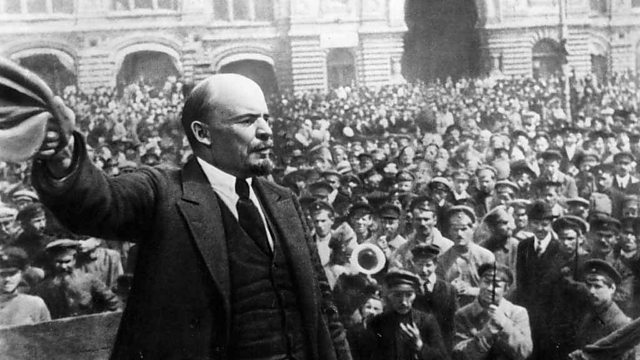 Lenin
Melvyn Bragg investigates what drove the Soviet leader Lenin, and enabled him to develop a model to export communism and build an original political system that remained intact for over seventy years.
For some time, in some intellectual quarters in the West, Vladimir Ilich Ulyanov - also known as Lenin - was regarded as an understandable revolutionary, perhaps a necessary revolutionary given the actions of the Tsars, certainly a sympathetic revolutionary compared with his successor - Stalin. He became an icon in Russia - his body unburied, lying in Red Square in a state of permanent, imminent resurrection. The Russian Presidential Elections take place at the end of the month, and the Acting President, Vladimir Putin, promised that if he won he would finally take the body of Lenin from Red Square and bury him. But whether the country will be able to escape the extraordinary influence of the man, his ideas and his machinery of oppression is another matter. In his short period in power between 1917 and 1924 Vladimir Illyich Lenin invented the one party state, developed a model to export communism around the world and built a completely original political system that remained intact for over seventy years. What drove him and enabled him to achieve success?Robert Service, lecturer in Russian History and Fellow of St Anthony's College, Oxford and biographer of Lenin; Vitali Vitaliev, author, columnist, broadcaster former Soviet Journalist of the Year.
Featured in...
A Russia-themed season to mark the October Revolution centenary.

Browse the 20th Century era within the In Our Time archive.

Historical themes, events and key individuals from Akhenaten to Xenophon.