Main content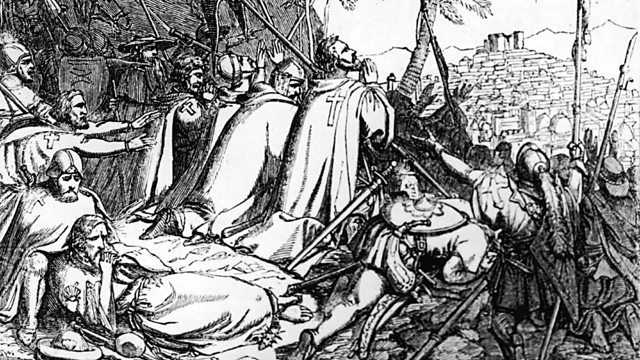 Just War
Melvyn Bragg examines where the idea of a just war originated and whether after over 100 years of almost unimaginably violent conflict, the term has any meaning at all.
Melvyn Bragg and guests discuss the idea of a just war. There were theories about a justified or noble war before the birth of Christ, but it was his reported teachings and a powerful influence, particularly on the Emperor Constantine, which set the standard which had to be kept or bluntly modified. "I say unto you, love your own image," Matthew writes, "bless them that curse you, be good to them that hate you and persecute you". In the fifth century, the mighty St Augustus prised the Christian church away from Christ's reported teachings and the idea of a Just War took root to be formalised and given power by St Thomas Aquinas in the thirteenth century, and by other Christian commentators even up to this day. But after a century, our century, of almost unimaginably violent conflict, does the term a Just War have any meaning at all? The historian AJP Taylor wrote that "the medieval pursuit of the just war is a pursuit as elusive as the Holy Grail. For it is almost universally true that in war each side thinks itself in the right, and there is no arbiter except victory to decide between them". So is the Christian idea of the Just War simply a way of justifying aggression or is it a moral position to take?With Professor John Keane, Professor of Politics, University of Westminster and Director of the Centre for the Study of Democracy; Dr Niall Ferguson, Fellow and Tutor in Modern History, Jesus College, Oxford and author of The Pity of War.
Last on
Broadcasts

Featured in...
From Altruism to Wittgenstein, philosophers, theories and key themes.

Historical themes, events and key individuals from Akhenaten to Xenophon.