Main content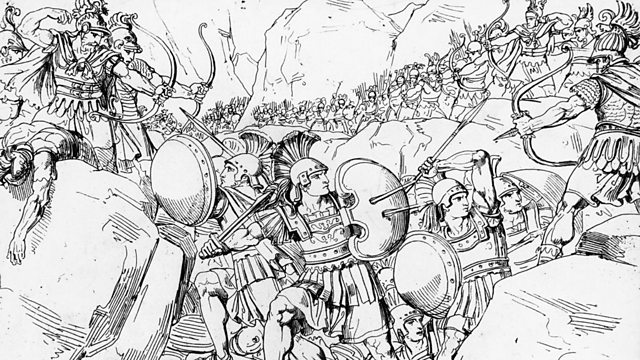 Thermopylae
Melvyn Bragg discusses the Battle of Thermopylae, a defining clash between East and West, when King Leonidas and his defeated Spartans passed into legend.
Melvyn Bragg and guests discuss the Battle of Thermopylae. For the historian Herodotus, the Battle of Thermopylae was the defining clash between East and West: "The Persians fell in their scores, for the officers stood behind lashing them forward, forward all the time. Many fell into the sea and were drowned, many more were trampled to death by their comrades ... The Greeks knew they were doomed now the Persians had discovered a way round the hill, and put forth their last ounce of strength, utterly desperate, utterly unsparing of their lives. (King) Leonidas fell in this battle. He had proved himself a great and brave man".A force of three hundred free Spartans and their King had stood and fallen before an invading army of three million, led by a brutal tyrant. Or so the story goes – such was their courage and its association with freedom that, nearly two and a half thousand years later, William Golding wrote, "A little of Leonidas lies in the fact that I can go where I like and write what I like. He contributed to setting us free".How important are the Greek/Persian wars to the story of democracy? Was the West and its values really so far removed from life in the Persian Empire?With Tom Holland, historian and author of Persian Fire; Simon Goldhill, Professor in Greek Literature and Culture at King's College, Cambridge; Edith Hall, Leverhulme Professor of Greek Cultural History at the University of Durham and author of Inventing the Barbarian: Greek Self-Definition through Tragedy.
Last on
Broadcasts

Featured in...
Browse the Ancient Greece era within the In Our Time archive.

Historical themes, events and key individuals from Akhenaten to Xenophon.