Main content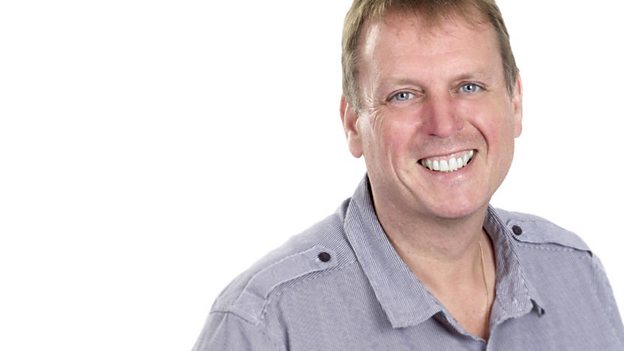 John Govier
JG brings you something refreshingly different for a Saturday morning!
Available now
There are currently no available episodes
Supporting Content
Saturday Shenanigans

JG's Saturday Show features a studio full of guests with interesting stories to share, and plenty of chart hits from the past five decades - interspersed with live performances by some of the best emerging local musicians.

It's lots of fun - and there's ALWAYS cake!

During the first hour, JG asks for your suggestions for songs and singers that fit a particular theme.

He also wants to hear from you if you're celebrating a birthday or anniversary or if you're organising an event or gig.

There's always lots of your interaction - you can get in touch with the show by email, phone, Twitter or text.


Meet JG

John joined BBC Radio Devon as a programme assistant back in 1992, after several years working in the Hotel and Catering industry.

"Before I joined the team at BBC Radio Devon I was the landlord of a pub in Uplyme, East Devon - near my hometown of Lyme Regis.

"Before that I was in hotel management, working for a major chain of hotels across the country," he said.

"People often ask how I made the leap from the hospitality trade to broadcasting, but there are loads of similarities; early starts, late finishes and a love of meeting and chatting to people."

John lives in Plymouth but often gets back to Lyme Regis to visit his Dad, who still lives there, and to take a walk along The Cobb with his two Black Labradors; Tilly and Izzy.

He's a big fan of blue skies, sunshine, live music, strawberries and Dartmoor - particularly Buckland Beacon where, in what seems like the middle of nowhere, you can find the 10 commandments etched into two tablets of stone.

He loves championing local bands and singers and really enjoys having musicians perform live on his show each week, so send him your details if you think you might fit the bill.

Above all John just loves meeting interesting people.

"I'm a sucker for a good, emotive, human interest story," he says. "Especially if it makes me laugh - or cry!"

The Saturday Show is quite different to most others. John invites all his guests to join him from 10am and stay until the end of the show, interacting with each other throughout. It's not unusual for there to be 20 or more people in the studio.

"It can make for some very interesting exchanges," he says.

So if you want something refreshingly different to listen to on a Saturday morning, make sure you tunedto BBC Radio Devon from 9am - 1pm.

Award Winning

On 1st November 2012, John was named "Best FM Radio DJ" in the South West Music Awards.

It's an annual award, with nominatoins and votes made by the public and members of the music industry.

Here's JG collecting his trophy at a ceremony at The Rougemont Hotel in Exeter.

John retained the title for a second year in 2013.

Special Guests

Who knows who's going to turn up in John's studio on a Saturday morning?

Among others, he's had the furry cast of the 'naughty but nice' stage show, Avenue Q, pay him a visit, he's chatted with Charlie Landsborough, Beverley Craven, Eliza Doolittle and Gordon Giltrap.

Whilst in August 2013 - folk legend Julie Felix made an early morning trip from her home (four hours away) to perform live on the show.

She even joined in with the rest of JG's guests for the end of show jam.

Here's Julie with John in the BBC garden after the show.

You can hear Julie performing one of her own songs, in collaboration with the local musicians who also appeared on the show that day if you go to the clips tab at the top of the page.

Appear on the show

If you're a local musician - or someone with an interesting story to share - and you'd like to appear on the show, please drop an email to

john.govier@bbc.co.uk 

Or send a CD and covering letter to:

John Govier
BBC Radio Devon
Broadcasting House
PO BOX 1034
Plymouth


You might also like to read

JG's guide

to getting your music heard on the radio.

More live music

If you enjoy live music, and you want to hear more, check out

BBC Introducing in Devon

- it's the way for local bands and musicians to get their music on the national arena.