Main content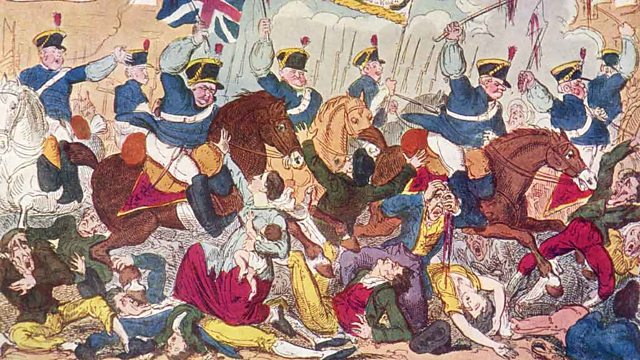 The Peterloo Massacre
Melvyn Bragg discusses The Peterloo Massacre on 16 August 1819, when British cavalry charged a vast crowd of protestors in Manchester.
Melvyn Bragg and guests discuss the Peterloo Massacre in 1819, a defining moment of its age. In 1819 Percy Bysshe Shelley wrote: 'I met Murder on the way He had a mask like Castlereagh Very smooth he looked, yet grim; Seven blood-hounds followed him: All were fat; and well they might Be in admirable plight, For one by one, and two by two, He tossed them human hearts to chew Which from his wide cloak he drew.' As Foreign Secretary, Castlereagh had successfully co-ordinated European opposition to Napoleon, but at home he had repressed the Reform movement, and popular opinion held him responsible for the Peterloo Massacre of peaceful demonstrators in 1819. Shelley's epic poem, The Mask of Anarchy, reflected the widespread public outrage and condemnation of the government's role in the massacre. Why did a peaceful and orderly meeting of men, women and children in St Peter's Field, Manchester turn into a blood bath? How were the stirrings of radicalism in the wake of the Napoleonic Wars dealt with by the British establishment? And what role did the Peterloo Massacre play in bringing about the Great Reform Act of 1832? With Jeremy Black, Professor of History at the University of Exeter; Sarah Richardson, Senior Lecturer in History at the University of Warwick; Clive Emsley, Professor of History at the Open University.
Last on
Broadcasts

Featured in...
Browse the 19th Century era within the In Our Time archive.

Browse the Romantic era within the In Our Time archive.

Historical themes, events and key individuals from Akhenaten to Xenophon.