Main content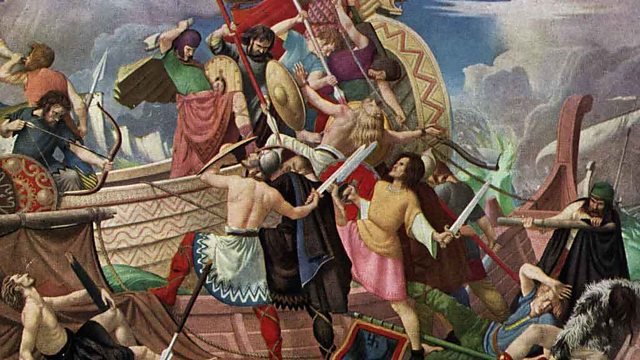 Alfred and the Battle of Edington
Melvyn Bragg discusses King Alfred, the defeat of the Vikings at Battle of Edington and Alfred's project to create a culture of Englishness.
Melvyn Bragg and guests discuss King Alfred and the defeat of the Vikings at Battle of Edington. At the end of the 9th century the Vikings controlled almost all of what we now call England. Mercia had fallen and its king had fled, Northumbria had fallen and so had Essex. The only independent kingdom left standing against the rampaging Danes was Wessex, and Alfred the Great; then he was overrun, his treasury, palaces and castles taken whilst he and his most loyal followers were left to wander the moors. Yet he came back. The Battle of Edington in 878 is taken by many to be the great founding Battle of England. It is the conflict in which Alfred, King of Wessex, came back to defeat the Vikings and launch a grand project to establish a new entity of Englishness, what he called the 'Anglecynn' in the South of the island of Britain.How did Alfred manage to defeat the Vikings when he had been so thoroughly routed? What motivated his project to fashion Englishness? And without Edington, would there be no England?With Richard Gameson, Reader in Medieval History, University of Kent at Canterbury; Sarah Foot, Professor of Early Medieval History, University of Sheffield; John Hines, Professor in the School of History and Archaeology, Cardiff University.
Last on
Broadcasts

Featured in...
Browse the Medieval era within the In Our Time archive.

Historical themes, events and key individuals from Akhenaten to Xenophon.