Main content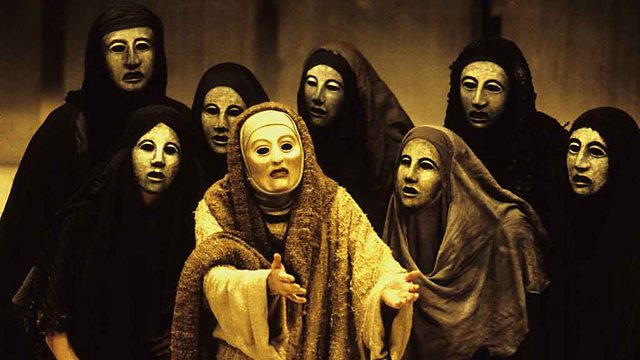 The Oresteia
Melvyn Bragg discusses the 'Oresteia', the first of the Classical tragedies that come out of fifth century Athens. It is a tale of homecoming, murder, bloody vengeance and the establishment of Law.
Melvyn Bragg and guests discuss the 'Oresteia', the seminal trilogy of tragedies by Aeschylus. The composer Richard Wagner recalled the visceral sensations of reading Aeschylus' great trilogy for the first time. "I could see the Oresteia with my mind's eye ... Nothing could equal the sublime emotion with which the Agamemnon inspired me; and to the last word of the Eumenides, I remained in an atmosphere so far removed from the present day that I have never since been really able to reconcile myself with modern literature." Aeschylus' audience were all familiar with the tale of one man's return home from the Trojan War. Homer's Odyssey recounted Odysseus' perilous journey home, the forceful ejection of the suitors from his household and his reunion with wife Penelope and son Telemachus. Aeschylus had a very different tale of homecoming to tell in his Oresteia. Agamemnon arrives home from Troy to a murderous welcome from a vengeful wife and a cycle of atrocities unfolds in his household. The Oresteia has inspired some of the greatest artists and thinkers of the modern world. From Richard Wagner and Friedrich Nietzsche to T.S. Eliot and Simone de Beauvoir – the 'Oresteia' has fired the modern imagination.Why did Aeschylus make the family the subject of his bloody revenge tragedy? How did his trilogy make a contribution to the development of Athenian legal institutions? And why has the Oresteia had such a powerful hold over the modern imagination? With Edith Hall, Professor of Greek Cultural History at Durham University; Simon Goldhill, Professor of Greek at the University of Cambridge; Tom Healy, Professor of Renaissance Studies at Birkbeck College, University of London.
Last on
Broadcasts

Featured in...
Browse the Ancient Greece era within the In Our Time archive.

Popular culture, poetry, music and visual arts and the roles they play in our society.