Main content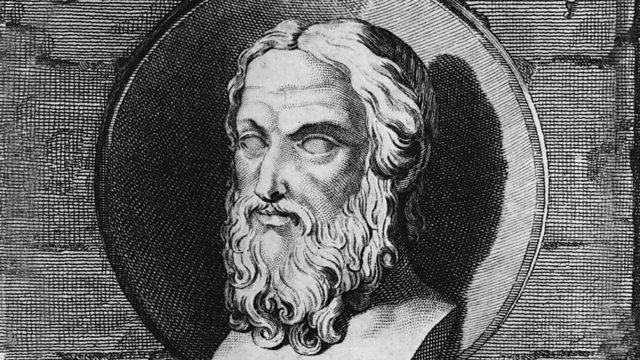 Comedy in Ancient Greek Theatre
Melvyn Bragg and guests discuss theatre comedy in Ancient Greece including Aristophanes and Menander and their lasting legacy.
Melvyn Bragg and guests discuss comedy in Ancient Greek theatre including Aristophanes and Menander. In The Birds, written by Aristophanes, two Athenians seek a Utopian refuge from the madness of city life and found a city of birds located between Earth and Olympus. Unfortunately, the idealism of their perfect new City - christened (in 414 BC) 'Cloud Cuckoo Land' - becomes corrupted and its decline was portrayed by one man (the chorus) playing 24 different species of bird. In one of Aristophanes' other politically anthropomorphic plays, The Wasps, was devised as an attack on the failures of Athenian democracy. It featured a chorus of actors dressed in black and yellow stripes who swarmed the stage stinging each other. Crammed with absurd images and satirical barbs, Comic theatre was a popular art form where mass appeal and coarse humour was combined with men in drag lambasting political figures and local big wigs. And from the fifth century BC onwards, Greek comic theatre fizzed and flourished, crossing boundaries of time and space, often informed by a savage political spleen. But how did Greek comedy evolve? Why did its subsequent development differ so radically from that of Greek tragedy? To what extent did it reflect the anxieties and preoccupations of a nascent democracy? And can it be said to have left any lasting legacy? With Paul Cartledge, Professor of Greek History at the University of Cambridge; Edith Hall, Professor of Drama and Classics at Royal Holloway, University of London; Nick Lowe, Senior Lecturer in Classics at Royal Holloway, University of London.
Last on
Broadcasts

Featured in...
Browse the Ancient Greece era within the In Our Time archive.

Popular culture, poetry, music and visual arts and the roles they play in our society.