Main content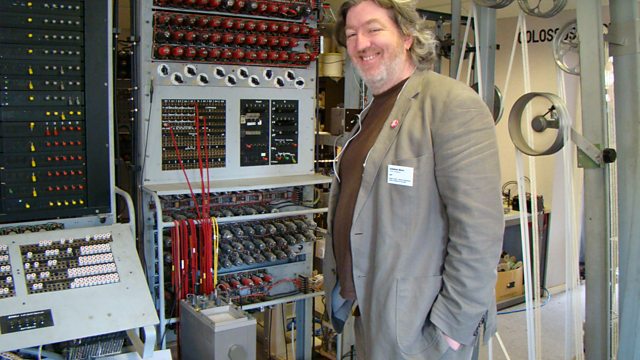 26/05/2009 - History of Home Computing (Open University)
Gareth and Bill bring you a potted history of home computing, with a trip to the UK's National Museum of Computing at Bletchley Park.
This week, Gareth and Bill go back to BASIC with their potted history of the home computer. In this special edition, produced in collaboration with the Open University, they travel to Bletchley Park in Buckinghamshire England.
Here, during World War II, top secret German codes were broken using the first electronic programmable computer. Gareth meets the giant 'Colossus' which deciphered messages sent by Hitler to his generals. He also talks to curator Tony Sale, the man who spent 15 years rebuilding this historic machine.
Archive of Tommy Flowers kindly donated by the Science Museum in London.
CHIP TUNES
Composer Matthew Applegate makes 'chiptune' music by reprogramming old computers. He recently gave a performance at Bletchley Park called 'Obsolete?' using sounds from Colossus and other machines in the museum. He talks to Gareth about working with Colossus and how some spilt milk started his career.
FROM CODES TO CODING
Gareth & Bill get nostalgic in the home computing gallery, full of classic machines from the 1960s onwards. Director Kevin Murrell guides them through the years, from the Acorn Atom, through the Sinclair ZX80, to the BBC Micro. Finally, convergence arrived with the Apple Macintosh and the IBM PC, the precursors to today's home computers.
WESBITE EXTRAS FROM THE OPEN UNIVERSITY
You can download the free Digital Planet ringtone at the Open University website, see their link below. There you will also find a 3D Photosynth picture and video of the mighty Colossus!