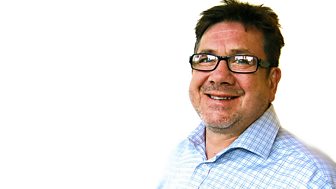 Alan Clifford
Join Alan Clifford on BBC Radio Nottingham. Once upon a time he did farmyard impressions for a living.
Alan used to work on radio's longest running soap opera The Archers.
He quit Ambridge for Nottingham back in 1989 and since then has worked as a sports reporter, researcher, producer and presenter, fortunately usually not all at the same time.
A vegan who never touches animal products, Alan says he would most like to meet fellow vegan and poet Benjamin Zephania to get the recipe for Nut Couplets.
Alan presented the drivetime show on BBC Radio Nottingham from 1997.