Main content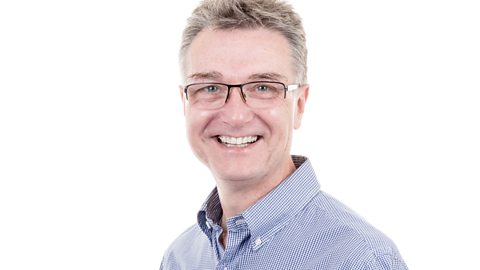 Graham Seaman
Join Graham Seaman on BBC Radio Wiltshire.
Available now
There are currently no available episodes
Coming Up
No upcoming broadcasts
Supporting Content
About the programme

You can hear Graham Seaman between 12pm and 2pm weekdays on BBC Wiltshire. It's two hours looking at the things in life which matter.  Family, health, community, relationships, together with Graham's unique observational style.

Graham's early days in radio started out in his parents' kitchen when he and his neighbour built their own studio and then 'broadcast' their programmes, through speakers, to the living room so his school mates could come round and dance to.

Graham began his working life as a trainee electronics test technician and volunteered at Hospital Radio Basingstoke in his spare time. He eventually got a job in commercial radio where he trained as a journalist/reporter before moving into programme production and presenting.

At lunchtimes, Graham's on the lookout for your stories and more about where you live and work. Anything that intrigues, winds you up, makes you laugh or simply helps you to get things done, get in touch.  It's all about sharing.