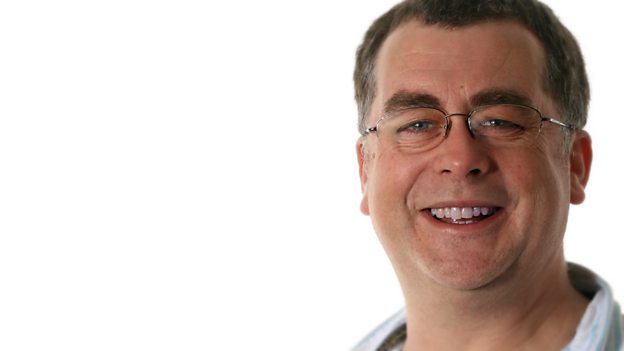 Mark O'Donnell
News, music and grown-up conversation.
Available now
There are currently no available episodes
Supporting Content
About the programme

Before that he underachieved at school and college before spending years in an industrial wilderness of flat pack furniture, fork lift trucks and any other job that paid the rent and left enough over at the end of the week for lager.

After deciding that he didn't after all want to be a postman, holiday courier, labourer, cleaner or complaints manager at MFI, Mark applied to join a BBC training course aimed directly at people who had no media experience at all but wanted to be a local radio reporter.

He said: "The day the letter arrived saying I'd been accepted, I was in a sewer behind a chinese restaurant in St Helens steam cleaning six years of accumulated lard off the walls.

"My boss had intercepted the postman on his way round to pick me up and wisely didn't tell me that it had arrived until nine hours later when we were in the pub and he was within sprinting distance of the door."

Deprived of TV when he was a child:

"Mum got rid of it about a week before the first series of Fawlty Towers", Mark says with more than a little bitterness."

He spent his free time reading, playing cards and listening to old comedy records.

He knew more about Tony Hancock and Monty Python than was healthy for a 12-year-old, and knew how to finesse a seven-card Canasta meld by the time he was 13. A skill he has never had to call on once, but the old comedy records form a large part of his cultural approach to radio.

Born in South London in 1963, Mark has lived and worked in Hertfordshire, York, Merseyside, Somerset, Newcastle-upon-Tyne, Southampton and Berkshire.

Now he spends his free time reading, playing cards and listening to old comedy records. In between watching DVDs of Sergeant Bilko, The Sopranos and 24 with his wife, Alex.

Mark and Alex have just had a baby - Martha, a sister for Josephine and James. Martha was born around the same time Mark took up amateur dramatics to overcome his fear of performing in front of a crowd and then moved from lunchtime to the three hour mid-morning show. But hey - who needs to sleep anyway?