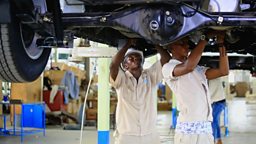 Why President Buhari is reluctant to sign the African Continental Free Trade Agreement.
Africa Business Report
A look at business across the continent. We talk to the people and businesses who are changing the economic face of Africa. BBC correspondents in each country report on the growing trends and latest business developments and give an insight into this diverse continent.
Next on
There are no upcoming broadcasts of this programme
Last on