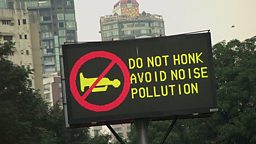 Rajan Datar takes a white knuckle ride in Mumbai's traffic-choked streets.
Fast Track
The series with the latest news about travel from the industry itself and advice on the latest deals and destinations, flights and holidays, for people travelling on business or for leisure.
Next on
There are no upcoming broadcasts of this programme
Last on
Rajan Datar tries a near gravity-defying challenge using a traditional Indian sport.

Rajan Datar looks at where the hottest destinations might be this year.

Homosexuality is illegal in Singapore, but tourism chiefs say gay visitors are welcome

Paralympian Ade Adepitan and disability campaigner Christiane Link race across London

How the city of canals is struggling to cope with so many visitors.

The horses who are resilient to Iceland's harsh conditions and thrive in the climate.

Michelle Jana Chan sets off on foot to see wildlife up close on a walking safari.