Main content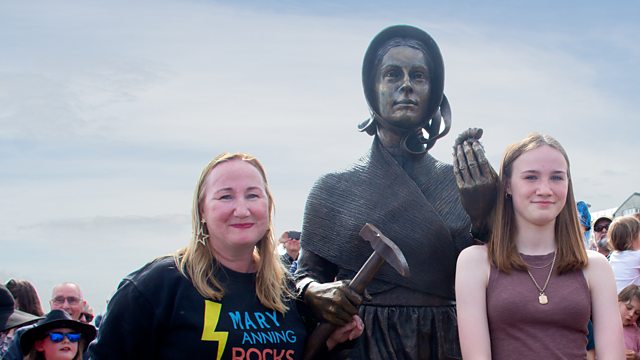 Mary Anning statue, Sean O'Neill and daughter's death from ME, Social care
Journalist Sean O'Neill on the death of his eldest daughter, Maeve, from ME, writer Polly Curtis on new social care report, Love Island and second-hand clothes.
This month, the health secretary announced a new plan to tackle ME and Chronic Fatigue Syndrome in England. Woman's Hour is joined by Sean O'Neill, a senior writer for the Times, whose eldest daughter Maeve, passed away last October at the age of 27, after suffering from ME since she was a teenager. Emma also talks to Dr Charles Shepherd, medical advisor to the ME Association.
ITV's reality TV show Love Island has dropped its fast fashion sponsors for more sustainable, preloved fashion for its next season. Love Island is known for setting fashion trends with contestants often wearing several outfits in each episode. But this time the outfits will be from Ebay and they will be second-hand. Emma is joined by Natalie Binns who is a fashion buying and sustainability sourcing consultant for several independent brands.
In the last of our series Threads Listener Jeanie remembers her marvellous Aunty Mary whose Land Girl jacket holds so many happy memories.
Tens of thousands more youngsters will end up in care unless radical changes are made to child protection a major new review has warned. Polly Curtis, journalist and author of Behind Closed Doors: Why we break up families and how to mend them, joins Emma to discuss the findings of the report.
A statue of the 19th-century fossil hunter Many Anning was unveiled this weekend, on Saturday, in Lyme Regis in Dorset. Mary was a fossil hunter who made many significant discoveries. Her bronze statue is thanks to a local 15-year-old schoolgirl called Evie Swire, who campaigned for Mary to be immortalised Evie is at school today, but Emma is joined by her mother Anya Pearson.
Presenter: Emma Barnett
Producer: Lucinda Montefiore
Studio Manager: Tim Heffer
Last on
Broadcast

Podcast
Women's voices and women's lives - topical conversations to inform, challenge and inspire.