Main content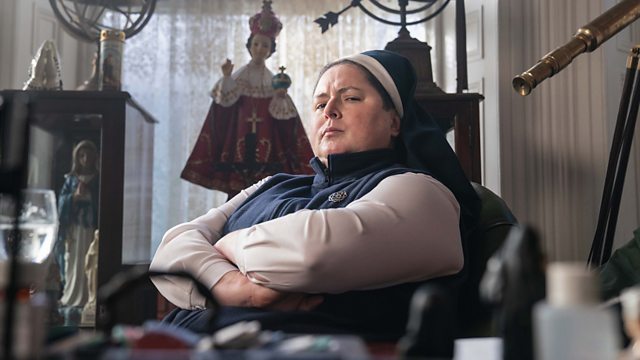 Weekend Woman's Hour: Siobhan McSweeney, Anne-Marie Duff, Mel C
Siobhan McSweeney and TikTok star Sister Monica Clare talk to us all about nuns.
Do you know much about nuns? Many people don't, but some nuns in the US are turning to social media to bring religion into the 21st century. Sister Monica Clare from the Community of St John the Baptist went viral on Tik Tok after followers wanted to know her skin routine - now she answers people's questions about being a nun. She joins Krupa as does Siobhan McSweeney, who plays fictional Sister Michael in Derry Girls to talk all about nuns.
Actor Anne-Marie Duff talks to Emma about her new role as Constance, a working class matriarch from the Midlands in a new play that spans five decades of the lives, and deaths, of the Webster family. 'The House of Shades' by Beth Steel is on at London's Almeida Theater until 18th June.
Are you happiest when you're in the office or do you prefer to work from home? Are you contemplating leaving a role because it's no longer flexible? Dr Jane Parry, Associate Professor of work and employment at Southampton Business school and Guardian columnist Gaby Hinsliff speak to Emma about recent work from home data.
After Little Mix said goodbye to their fans with their final show on Saturday before going on hiatus, it seems that for the first time in decades, Britain is without a major girl band. Emma is joined by Melanie Chisholm from the Spice Girls and music journalist, Jacqueline Springer.
Women attending abortion clinics in the UK can face "regular harassment" according to a report from BBC Newsnight. Anti-abortion groups who gather outside services say they're holding "prayer vigils" and offering help but some patients say they have been so distressed they've had panic attacks or even felt suicidal. Now charities are calling for protected areas outside all services which activists cannot legally enter. BBC Newsnight Correspondent Anna Collinson speaks to Krupa about it.
A new exhibition exploring female spiritual beings in world belief and mythological traditions around the globe opens at the British Museum this week. Feminine power: the divine to the demonic is the first exhibition of its kind to bring together ancient sculpture, sacred artifacts and contemporary art from six continents. Belinda Crerar, Exhibition Curator at the British Museum and Dr Janina Ramirez, a British Art Historian and author of Goddess a book for children written to accompany this exhibition join Krupa.
Photo Credit: Channel 4
Last on
Broadcast

Podcast
Women's voices and women's lives - topical conversations to inform, challenge and inspire.