Main content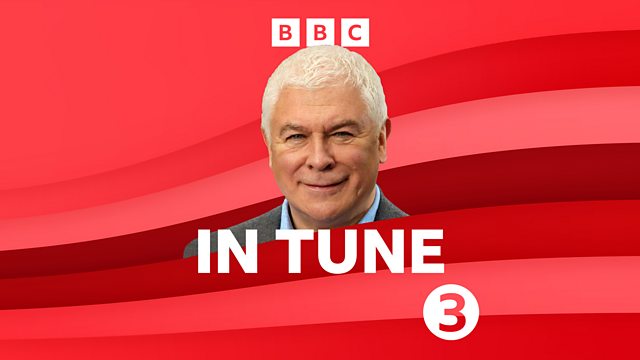 Ivana Gavric and Ana de la Vega
Sean Rafferty is joined in the studio by pianist Ivana Gavric who will perform live ahead of her performance of Grieg's Piano Concerto with the Philharmonia Orchestra at the Royal Festival Hall in London. Plus flautist Ana de la Vega talks about her new album My Paris.
Last on
Music Played
Jean‐Philippe Rameau

Overture to Naïs

Orchestra: Le Concert des Nations. Conductor: Jordi Savall.

Edvard Grieg

The Goblin's Bridal Procession from Norwegian Peasant Dances, Op.72

Performer: Ivana Gavrić.

Joseph Haydn

Piano Concerto in D Major, Hob.XVIII: 11: III. Rondo all'Ungarese, Allegro assai

Performer: Ivana Gavrić. Orchestra: Southbank Sinfonia. Conductor: Karin Hendrikson.

Gustav Mahler

Urlicht (Des Knaben Wunderhorn)

Performer: Joseph Middleton. Singer: James Newby.

I wonder as I Wander: Beethoven, Schubert, Mahler and Britten.
BIS.
18.

Antonio Vivaldi

Violin Concerto in B minor RV386

Performer: Nicola Benedetti. Ensemble: Benedetti Baroque Orchestra.

Nicola Benedetti: Baroque.
Decca.
10-12.

Edvard Grieg

Wedding Day at Troldhaugen from Lyric Pieces, Op.65

Performer: Ivana Gavrić.

Edvard Grieg

Air from "Holberg Suite"

Performer: Ivana Gavrić.

John Playford

The Virgin Queen Set (The English Dancing Master)

Music Arranger: Bjarte Eike. Music Arranger: Barokksolistene. Ensemble: Barokksolistene. Director: Bjarte Eike.

The Alehouse Sessions.
RUBICON.
07.

William Byrd

Ave Maria Gratia Plena

Ensemble: Stile Antico.

Puer Natus Est, Tudor Music For Advent and Christmas: Stile Antico.
Harmonia Mundi.
7.

Hector Berlioz

Villanelle (Les nuits d'été Op.7)

Singer: Karen Cargill. Orchestra: Scottish Chamber Orchestra. Conductor: Robin Ticciati.

Berlioz: Les nuits d'ete: Scottish Chamber Orchestra.
Linn.
1.

Jean-Baptiste Barrière

Sonata no. 10 in G major for 2 cellos: 3rd movement - Allegro pretissimo

Performer: Guy Johnston. Performer: Sheku Kanneh-Mason.

Dora Pejačević

Symphony in F sharp minor Op.41 (3rd mvt)

Orchestra: BBC Symphony Orchestra. Conductor: Sakari Oramo.

Holly Archer

Zone Out (Electronic Ambient)

Performer: Holly Archer.

BBC Introducing Classical.

Giovanni Battista Pergolesi

Stabat mater dolorosa (Stabat mater in F minor)

Singer: Anna Prohaska. Singer: Bernarda Fink. Orchestra: Berlin Academy for Early Music. Conductor: Bernhard Forck.

Pergolesi - Stabat Mater.
HARMONIA MUNDI.
6.

Francis Poulenc

Flute Sonata, iii) Presto giocoso

Performer: Ana de la Vega. Performer: Paul Rivinius.

My Paris.
PENTATONE.
703.

Gabriel Fauré

Après un rêve

Performer: Ana de la Vega. Performer: Paul Rivinius.

My Paris.
PENTATONE.
301.

Carl Philipp Emanuel Bach

Cello Concerto in B flat major, Wq 171 (3rd mvt)

Performer: Nicolas Altstaedt. Ensemble: Arcangelo. Conductor: Jonathan Cohen.

C P E Bach: Cello Concertos.
Hyperion.
6.

Benjamin Britten

Courtly Dances: March & Coranto (Gloriana Suite Op.53a)

Orchestra: BBC Philharmonic. Conductor: Edward Gardner.

Benjamin Britten: Works for Orchestra.
CHANDOS.
3.

Sergey Rachmaninov

Vocalise, Op.34 no.14

Orchestra: Royal Liverpool Philharmonic Orchestra. Conductor: Vasily Petrenko.

Rachmaninov: Symphony No.3 etc: RLPO/Petrenko.
EMI.
2.

Johann Sebastian Bach

Mass in B minor, BWV 232 (Sanctus)

Choir: Monteverdi Choir. Orchestra: English Baroque Soloists. Conductor: Sir John Eliot Gardiner.

J.S. Bach: Mass in B minor: John Eliot Gardiner.
ARCHIV.
10.
Broadcast